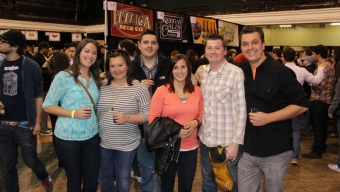 Blog: NYC Caft Beer Fest- Spring Seasonals
Many of us wait for a certain furry little creature to see its shadow to determine whether or not the harsh days of winter are officially behind us. But the only time tested approach to actually determine springtime is the emergence of spring beers. With that in mind, the Saturday before Easter brought with it several thousand thirsty drinkers looking to imbibe some of the tasty brews that only the warm weather can bring. With the New York Craft Beer Festival's "Spring Seasonals," the Lexington Armory was jam packed for two weekend sessions with suds producers large and small, and groups of friends making the rounds together, drinking it all in.
With a long night in sight, we headed out for the evening session and arrived in the midst of the VIP hour, preceding the general admission entry. Fortunately at this time the Armory was crowded, but not overly so, allowing us to skip around the space and chat with many of the pourers manning each beer station. We grabbed our commemorative tasting glass and headed toward some of our familiar favorites. Blue Point Brewing Company is normally among our first stops because of our extreme allegiance to their excellent "Toasted Lager." But this day was all about the light, refreshing beers that pair so well with the adjustment to warmer temperatures and Blue Point's aptly named "Spring Fling" beer fit the mold entirely. Sweet and light, the American style pale was medium bodied and plenty hoppy to appease our love of ales.
Captain Lawrence Brewing Company offered perhaps our very favorite beer of the entire festival because of its taste profile and distinction for its medium body, big taste, and- our primary quality for craft beers- drinkability. The Captain's "Brown Ale" poured its rich brown appearance into our sleek glass, with aromatic hints of delicious nuts wafting inside our nostrils. More refreshing than it had any right to be for such a malty beer, the combination of elements balance out the finished product very nicely. We also went wild for some of the larger beer brands' attempts at springtime as Blue Moon's "Belgian White," Sierra Nevada's "Ruthless," and Samuel Adams' "Grumpy Monk" brought with them some of the evening's lengthiest lines.
Hunger came calling out as if it was 3am. With our stomachs now full of beer, the likes of a Tavern 29 "Mac and Cheese" ($6) or some "Hickory Smoked Chicken Empanadas" ($7) sounded ideal. Alongside, Rosamund Sausage Grill, The Savory Pie Guy, and Cooper's Craft & Kitchen, the food court was constantly being inundated with hungry boozehounds carrying around various eats. The most eye catching of which was Cooper's "Stout Braised Pulled Pork Sandwich" ($6) doused in chipotle barbecue sauce on a fresh brioche bun. As the sights and smells of the food enraptured us, we jumped back toward the beers as the Armory began to look more and more full.
As we neared the end of our brew led journey, we searched for veritable unknowns where we found Dave Bittner of Singlecut Beersmith nearby, pouring tasty draughts of the brand new beer straight from their brewery in Astoria Queens. Their signature guitar neck is certain to top beer taps all over town in the coming months. We also enjoyed the "Grey Lady" from Cisco Brewers, Wandering Star's "Mild Heart," and Red Hook's "Audible Ale" before bringing it back to more familiar brands. Standouts here included Harpoon Brewery's "White IPA,"Lagunitas Brewing Company's "A Little Sumpin' Sumpin' Ale," and Saranac's "Red IPA," which ranked at the very top of our list of favorites.
Although pacing is imperative at these events, we hit the VIP hour a little bit hard and were finding ourselves almost out of gas at the halfway point of "Spring Seasonals." It's been said that craft beer festivals are a marathon not a sprint, but before the crowd descended upon the Armory's spacious setting, we greedily overindulged on a variety of tremendous pours. But the participants were so friendly and the beers were so tasty, we had little willpower to turn them down. And with beers so light, crisp, and downright refreshing the New York City Craft Beef Festival did its job in getting us fully amped up for spring.
- Jane Van Arsdale
Related Articles
Share
About Author
(0) Readers Comments