April brought us our first glimpse of what the warmer months may look like if we get our way. If we are lucky enough the flowers of May will bring the sun in truckloads. Even if this month isn't beach weather, your friends at LocalBozo.com have a hot list of the best events to get you into the summer spirit. Check back often as this list will continue to expand, just like our waist lines. 
May Events in New York City: Where You Need to Be

Date: Wednesday, May 1st  2013
Event: STREETS 6th Annual NYC Benefit 

Place: The Astor Center 

Cost:  $100 General Admission, $225 at the door

The Scoop: If you can take needy youths off a troubled path and place them in a secure position for success then you are a hero in our eyes. STREETS International does this and so much more by working with the impoverished nation of Vietnam to place these at risk persons in comprehensive programs in fields like the culinary arts and hospitality. The extremely generous eighteen month program is not cheap which is precisely why they need your help, but in one of the most fun ways possible. On the first day of May, head to the Astor Center and lend your support at the "STREETS 6th Annual NYC Benefit." There you will sample a wide variety of delicious dishes from New York mainstays like The Meatball Shop, Edi & The Wolf and Kuma Inn.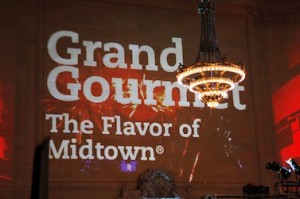 Date: Thursday, May 2nd 2013 

Event: Grand Gourmet 2013: The Flavor of Midtown 

Place: Vanderbilt Hall – Grand Central Terminal 

Cost: $125 General Admission, $350 VIP 

The Scoop: Listen, we were there last year and still can't stop talking about it. Imagine going to Grand Central Terminal and seeing that it has been transformed into a vast spread of Midtown, Manhattan's best restaurants and bars. Well dream no more and grab your ticket for the exciting "Grand Gourmet 2013: The Flavor of Midtown." We bet you never thought you could shake off a stressful day of work at the train station. But for one night only you can. Sip an ale from Beer Table Pantry or a classic cocktail from The Campbell Apartment as you soak in the Spring evening with your fellow New Yorkers in the know. The food selection is a basic who's who in Midtown eats. Sample choice cuts of meat from The Capital Grille or Michael Jordan's The Steakhouse NYC. If you love lighter fare hop on over to The Seafire Grill and Ruby Foo's Times Square among a bevy of different options. Trust us, you will not leave hungry. This exclusive event has something for every taste!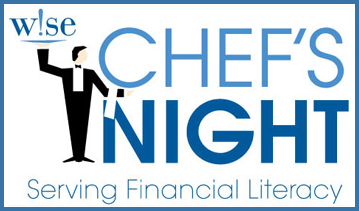 Date:  Tuesday, May 7th 2013 

Event: w!se Chef's Night 2013 

Place: Prince George Ballroom 

Cost: $150 General Admission 

The Scoop: May is seriously turning out to be a month where you can eat and drink all in the name of some very good causes and "w!se Chef's Night 2013" is no exception to the rule. The luxurious Prince George Ballroom will play host to a Tuesday night full of Casino games, prizes, live auctions and you guessed it plenty of delectable food and drinks. Grab heaping chunks of some of the best cheese from Stinky Brooklyn as you sip a great beer from the Brooklyn Brewery. Other participants include Bobby Van's, Sofrito, Winebow, Serge and many more. The best part about it is that you're doing it all for a good cause. w!se Financial Certification addresses the important issue of financial literacy. Too many people are getting themselves into debt these days with mounting student loans and credit cards bills they can't pay back. The good people at w!se give these people the tools they need to avoid these pitfalls and by filling your belly on this night, you're doing your part to help. 
Date: Tuesday, May 7th 2013

Event: Village Voice Choice Streets

Place: Pier 86 of The Intrepid Sea, Air & Space Museum

Cost: $140 General Admission, $50 VIP (Tickets are Sold Out)

The Scoop: Somehow, the folks at the Village Voice have managed to create as much of a buzz around their second annual food truck event as they did around their massive Choice Eats event that sells out almost immediately every year. You'll need a hook up to get into this year's Choice Streets event which returns to the outdoor waterfront space on the USS Intrepid. The all you can stomach food event will feature the likes of Coolhaus, Gorilla Cheese NYC, Hibachi Heaven, Mike & Willie's, Nuchas, Souvlaki GR, Waffels & Dinges and many more. Plus, there's booze, a live DJ, 1000 guests, and all the fun that a spring evening can provide.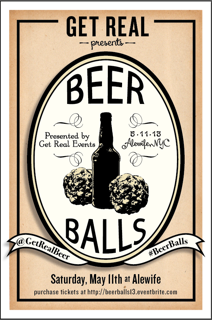 Date: Saturday, May 11 2013 

Event: 2nd Annual Get Real Presents "Beer Balls" 
Place: Alewife 

Cost: $40 General Admission

The Scoop: Are you ready to go balls out? We thought so! Luckily for you the always innovative folks at Get Real Presents are back for the "2nd Annual Beer Balls." Long Island City's Alewife will play host to two sessions of pure meat bliss. Ticket holders will have the chance to sample a selection of brews from the likes of, "Bronx Brewery," "Peekskill" and "508 Gastrobrewery" just to name a few. With ale in hand, you'll be able to walk around the amazing bar and venue sampling ten meatballs prepared by some of the best chefs in the city. Be prepared to put your grandmas balls on the shelf as you load your mouth with these! Tickets will sell out, so keep your eye on the proverbial ball with this one.
Date: Saturday, May 11th 2013

Event: Crawfish for Cancer

Place: Boat Basin Cafe

Cost: $95 until May 10th, $110 at the door

The Scoop: Five hours long. Three live bands. An outdoor setting on New York's picturesque west side. An endless selection of beer, wine, and spirits. And hundreds upon hundreds of pounds of crawfish. And did we mention, it's all to raise money for multiple myeloma cancer research? With Crawfish for Cancer, one affordable price gets you as exciting a concept as any at one of Manhattan's most fun venues for an all inclusive day of fun. The now annual festival has grown exponentially year after year and in 2013, the Fifth Annual Crawfish for Cancer benefit is primed to be its biggest yet. Do not miss out on this one!
Date: Tuesday, May 14th 2013

Event: 11th Annual Queens Taste

Place: Caesars Club at Citi Field 

Cost: $125 General Admission

The Scoop: If you've made it this far into the month and haven't attended any of these events yet, shame on you. Don't worry we're just kidding you have plenty of time. The "11th Annual Queens Taste" heads to Citi Field for another packed year of culinary excitement for a great cause. Guests will be able to sample fare from nearly fifty restaurants, chowing down on everything from Asian to Italian style cuisine. Proceeds from this Queens centric event will go to the Queens Economic Development Corporation who strive to attract and maintain jobs within the borough. So if you are a Mets fan, love good eats or have a soft spot in your heart for local business this is an event built for you.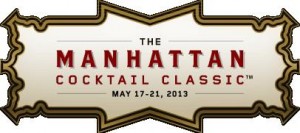 Date: Friday, May 17th- 21st 2013

Event: The Manhattan Cocktail Classic

Place: Varies

Cost: Varies

The Scoop: Unfortunately, the contents of a blurb are simply unable to house all that's going on with the 2013 Manhattan Cocktail Classic. From the prestigious four floors of booze at the opening night Gala event at the New York Public Library ($195, sold out) to the plethora of different events spanning five full days all over New York City from food conferences to seminars tastings, there's simply too much to list here. But one thing is for certain, the weekend of May 17th is the finest of the entire year as far as the booze and cocktail related events if you have any interest in that sort of thing- and if you're reading this list, it certainly seems like you do. Now check out the Cocktail Classic's website and see what tickles thy fancy.

Date: Friday, May 17th- 19th 2013

Event: The Great GoogaMooga

Place: Prospect Park

Cost: Varies

The Scoop: There was perhaps no event in 2012 subject to more ridicule, more criticism, and more unrelenting reviews. And yet, the 2013 iteration is all but sold out. The folks at The Great GoogaMooga have promised some sweeping changes in store for the free to enter Brooklyn event bringing together most of our area's exciting restaurants, coupled with big name acts for a full weekend of excellence. Promises of more staff, shorter lines, and easier crowd control have been delivered, and we have full faith that they'll execute come event time. But until then, the tantalizing thoughts of food for purchase from Back Forty, Colicchio and Sons, Dinosaur Bar-B-Que, Eataly, Fatty 'Cue, Miss Lily's, Num Pang Sandwich Shop, Salvation Taco, Rosemary's, and (excited gulp!) Umami Burger with the background music of the likes of The Darkness, The Flaming Lips, Matt and Kim, De La Soul, and Sharon Jones and the Dap Kings makes this year's Mooga, a can't miss.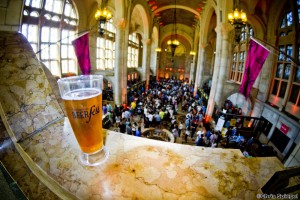 Date: Saturday, May 18th 2013

Event: LivingSocial Spring Beer Fest

Place: Skylight One Hanson, Brooklyn

Cost: $39 General Admission (Living Social deal is currently over)

The Scoop: If you live in New York City then LivingSocial should be like that best friend who doesn't speak but gives you tons of great deals. The great people at the packaged offer company have come back to Brooklyn to bring us yet another sold out "Living Social Spring Beer Fest." LivingSocial members who were lucky enough to get in on the action will spend an entire day sampling over sixty choice brews from some of the best purveyors around, while quenching their ravenous hungers with an array of top food trucks. As you drink your way through this historic venue, DJ Robert Lux will provide a killer soundtrack to have you rock out while hoisting beers high in the air. If last year's event was any indication, get ready for an all out day of buzz filled haze.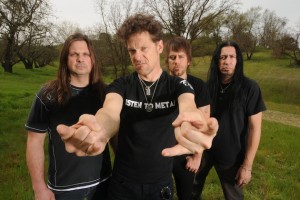 Date: Tuesday, May 21st 2013

Event: Newsted

Place: Highline Ballroom

Cost: $25 in advance, $30 day of show

The Scoop: He was the Bassist in one of the world's biggest metal bands but shockingly chose to leave in search of something to satisfy his needs as a musician. We're talking about Jason Newsted the man who plucked the bass strings in Metallica for fifteen years. Since leaving the Metallica machine, Newsted has tried his hand in several other projects like Echobrain, Voivod and even alongside Ozzy Osbourne. But in 2013, the bassist has truly come into his own with a 4 song EP titled "Metal" with a full album set to come next. Do yourself a favor and grab up some tickets for Jason's Highline Ballroom performance which will help you close out the month with your fists up proudly in the air.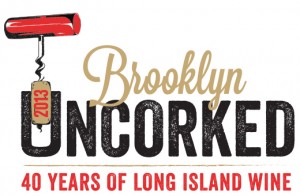 Date: Wednesday, May 29th 2013

Event: Edible's Brooklyn Uncorked

Place: Skylight One Hanson

Cost: $55 General Admission, $125 VIP

The Scoop: Sitting across the street from the Barclays Center, Skylight One Hanson is an old bank building converted to a beautifully massive event space. Couple that with an annual celebration of local vino and a few hundred likeminded guests and you've got an all out party on your hands. Edible Magazine (Brooklyn and Manhattan) brings Brooklyn Uncorked, the 2013 event that totes 40 years of Long Island wines and the best in local fare from the likes of Blue Hill, Allswell, Gramercy Tavern, Fonda, Five Points, Palo Santo, The Vanderbilt and more. This event is both affordable and fun, and it will sell out. Make sure you're in the building, rather than reading about what you missed on this site Thursday morning.


Date: Wednesday, May 29th – June 1st 2013

Event: New Taste of the Upper West Side

Place: Varies

Cost: Events Vary

The Scoop: New York City's finest UWS chefs and some of television's most sought after food personalities are all coming out once again to honor one of Manhattan's favorite neighborhoods. The New Taste of the Upper West Side has transformed to a four day festival of eats featuring the likes of Adam Richman and Gail Simmons with appearances by Danny Meyer, Jean Georges-Vongerichten, Marc Murphy, Michael Psilakis, Michael Lomonaco, John Fraser, and so many more. From the "Soiree in the Park" ($150) to "Comfort Classics" ($105) to the "Best of the West" ($135), you get your chance to meet the chefs and to eat and drink as much as you'd like. And with each distinctive event, you'll be benefiting the beauty of the UWS, one block and park at a time.
- Jane Van Arsdale & Jay Rubin
Related Articles
Share
About Author
(0) Readers Comments