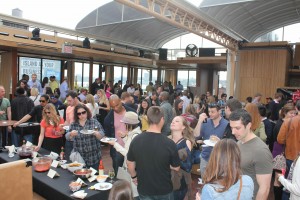 In two elaborate sessions, the folks at iAdventure.com allowed us to shuck and jive with the best of them on Sunday afternoon. 2013's "Oysterfest" was hosted inside of the open roofed Hudson Terrace, providing striking views of the Hudson River during one of the year's best weather days to date. With six tasting tickets and two drink tickets in hand, guests were treated to some tasty pairings from the east and west coast, along with all of the usual accoutrements that go alongside the slurping sound of the shelled aphrodisiac.
We ducked into the multi-level space shortly after the second three hour session's 4pm start time, immediately ascending the staircase to the third floor. There, to our surprise, the roof deck was open wide, shining sunlight down upon a room of sunglasses donning partiers. The afternoon's soundtrack would be backed by some exceptionally performed cover tunes courtesy of soulstress Caitlin Bell and a subsequent DJ spinning remixes of Top 40 hits. It was surely a good thing that the roof was open because the collective energy inside of Hudson Terrace would have certainly burst through the ceiling had we been enclosed.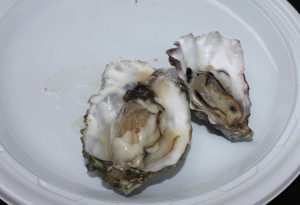 We immediately wrapped our hands around a delicious Bloody Mary before beginning to survey the increasingly crowded space. Although the event was well attended, lines were kept to a minimum and existed solely at the bar areas- essentially an unavoidable occurrence. The oysters meanwhile were each freshly shucked and immensely succulent. And because there was such a preponderance of different varieties, guests were absolutely able to differentiate between them. We began with the familiar "Blue Points," a mild, crisp oyster that was deliciously salty, and the smaller, brinier "Cape May" oyster, both from the east coast. With our tasting plate in hand, we approached the second floor's table of sauces for dousing, which contained the likes of Tobasco, an onion mignonette, a barbecue, and a teriyaki, amongst a sea of many alternatives alongside slices of fresh lemon for squeezing. And even after the first few tastes, there was something remarkably refreshing about slurping down an oyster and a glass of white wine on a summery day, amping us up even further for the forthcoming warmer weather.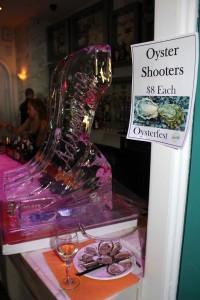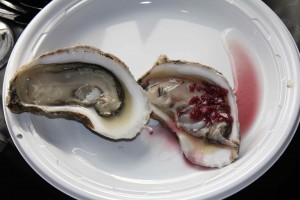 Eschewing the "Oyster Shooter" ($8) station in which the entire drink would run down an ice luge and into your gullet, we found some ample space outdoors where we grabbed a "Saddle Rock" (larger and even saltier than the "Blue Point") from Connecticut and a creamy white "Malaspina," a Vancouver-based variety that was clean and smooth, with a mild overall flavor profile. We would also be remiss if we failed to mention our pals at "Naked Cowboy," whose namesake is shared with its oyster from Shellfish Farms and has become the number one seller in Manhattan. Plated plump and meaty, the hearty chilled slurp offers up a savory celery hinted finish, and was amongst our favorites of the day.
Interestingly enough, as our sample tickets had run out, the party inside it seems was just getting started. Pockets of seemingly drunken attendees began performing in makeshift dance parties, similar to iAdventure.com's "King of the Wing" event just a few weeks prior and the end of the night turned into an equally fun closure to an afternoon of delectable eats and drinks. Keep tabs on all the goings on at iAdventure at their website, and if you simply can't make their next event, stay tuned here as we attempt to recap in words, every bit of the action.
- Jane Van Arsdale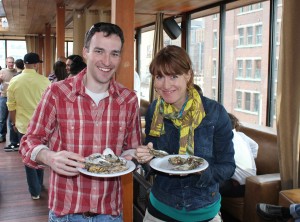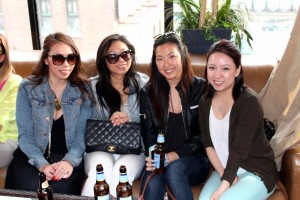 Related Articles
Share
About Author
(0) Readers Comments