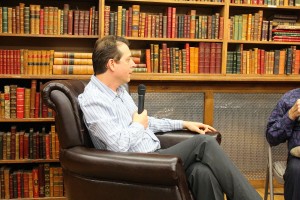 Although there's a good chance you won't recognize him by name, you've certainly seen his face or heard his voice parade through a portion of your favorite sitcoms over the years. From Murphy Brown to Seinfeld, Everybody Loves Raymond to Friends, actor/comedian Fred Stoller has managed to carve out more than a little niche for himself from the term 'character actor.' With the release of his first penned work "Maybe We'll Have You Back," Stoller welcomed legendary television icon Jerry Stiller as his accompanying guest to New York City's esteemed Strand Bookstore on Monday night for a discussion that revolved around comedy, behind the scenes stories, and the struggle to make it in show business.
Surrounded inside the intimate settings of Strand's Rare Book Room, Stoller sat down first in a plush leather chair before welcoming Stiller. Looking older than his stints on reruns of Seinfeld or The King of Queens would have us remember, the comedy icon needed little help locating his still in-tact comedic wit. For close to an hour, the two men, whose history together date back almost 30 years, recalled stories and folklore of comedy's past. While Stiller commanded much of the attention, to his credit he continuously attempted to redirect the conversation back toward Stoller. And as a consummate pitchman, Stiller urged the attending guests to purchase a copy of Stoller's book, although most of us had already done so anyway.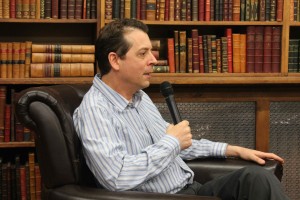 Fred Stoller meanwhile is as acerbic and dry-witted a comedian there is, focusing most often on his own neuroses caused mainly by his relationship with his relatively overbearing mother. While the book itself is hardly a tell-all, Stoller does delve into some truly insightful stories about the inside workings and actors behind some of television's most beloved shows- each of which he's been a minor part of. He also writes candidly about the perils of his anxiety in hoping for that next call back or that next role in as fickle a business as any, as mentioned various times during the conversation. Just as Stiller was rushed out of the room (to attend a benefit honoring Robert DeNiro), the two men welcomed Stiller's daughter Amy (The King of Queens) to the front of the room as they collectively recalled stories from their storied pasts.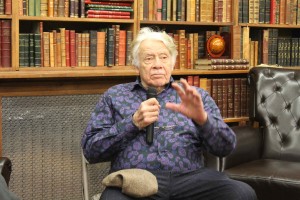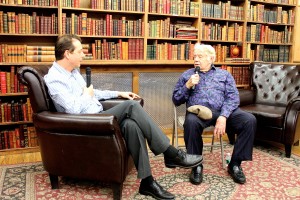 Unfortunately, while the hour came and went much too quickly, the casual and cozy confines at Strand Bookstore made us feel like we had been privy to a truly special affair. Guests lined the back corner of the room to have their books signed and shake hands with Stoller, truly appreciative of the attending guests out to support him on this night. The book, "Maybe We'll Have You Back" is available now, and for more information on all the upcoming goings on at Strand Bookstore, make sure to take a look at their website for more of these rare and intimate exclusive evenings.
- Jane Van Arsdale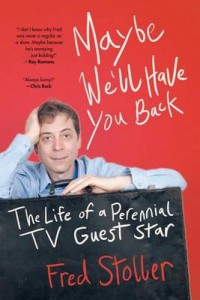 Related Articles
Share
About Author
(0) Readers Comments