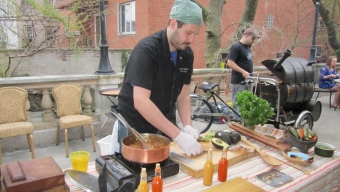 Blog: Taste Of 5th Avenue at Grand Prospect Hall
Park Slope, Brooklyn's Fifth Avenue is much more than just a grouping of interconnected streets filled with commerce and residential brownstones. Something so much stronger exists here- a community of homegrown businesses who strive to provide a solid product to the droves of locals who live to support them and have a great time in doing so. The great people at the Park Slope Fifth Avenue BID know this all too well. And for another exciting year, they have taken to the city landmark Grand Prospect Hall to make our dreams come true with the annual "A Taste Of 5th Avenue." The LocalBozo.com crew was thrilled to attend Wednesday night's event which put many of our favorite restaurants in the spotlight.
For being well over a hundred years old the Hall still retains as much charm as it likely did when its doors first opened. As the packed crowd of locals and those from other boroughs filed in, we began to scope out all of the delectable selections. As with most events it's important to wet ones whistle and not jump directly into gouging since there would be plenty of that going down in due time. We approached the well stocked bar and grabbed two bottles of Schmaltz Brewery's "Coney Island Pilsner," a perfectly crisp and drinkable brew to help welcome in these early days of spring. After that it was all about the food.
Luckily for us, with such a selection of local vendors, lines were kept relatively short and food was constantly in abundance. Meats were on the menu for us first. Benchmark, the restaurant located near the popular Loki Lounge was all about the baby back ribs on this night. Each rib was drenched in a spicy yet sweet dark barbecue sauce and paired with a tomato salsa as a garnish. The meat literally fell off the bone, melting in one's mouth giving little time for actual chewing. A few steps away we caught up with friend of LocalBozo and the Brooklyn community as a whole, Chef Jacques Gautier owner of Palo Santo and Fort Reno BBQ. The crew of both establishments worked in tandem together to produce delicious tacos and choice cuts of juicy meats paired with their homemade pickled carrots and hot sauce. All of these eats came directly off their specially made and much talked about smoker, made from a bike.
Sliders and meat dishes as a whole seemed to be a popular trend for the evening's festivities and we are never ones to complain about this. Bonnie's Grill who are known citywide for their outstanding hot wings came to the "Taste" with Sloppy Joe sliders. Each bite exploded with freshly ground meat, onions and a killer chili style sauce. Brunch spot and coffee joint, Dizzy's recently moved down the Slope hill to expand to a lovely corner 5th Avenue locale. And in keeping with the homemade feel to the place, they showed up with meatloaf sliders that brought me right back to my childhood in the best possible sense of the word. And in keeping with bite sizes sandwiches we have to give tons of love to Brooklyn newcomer Terroir Wine Bar who made a great showing with a meatball hoagie style sandwich that was so tender and savory that it nearly made us scream out "Mangia!"
Dale Talde's Pork Slope represented at their first, "Taste of 5th" with a chili dish. And when I say chili I'm not talking about a small dish of red sauce. No, this crew knows who butters their bread and came with huge pots of meat and spice filled goodness. Each portion was the size of a drinking glass and was loaded with freshly diced raw onions and cheese. Trust us it was so much more than just a tasting. It was more like a whole meal. After a few hours of eating and sipping choice wines and brews we had to call it a night- but one of our favorite recent nights on record. The LocalBozo.com crew would like to thank the Park Slope Fifth Avenue BID and all the amazing restaurants and bars from the area who gave their time and edible delights to make this a truly outstanding and community driven event.
- Jay Rubin
Related Articles
Share
About Author
(1) Reader Comment