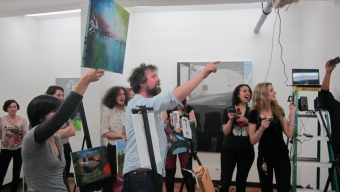 Blog: Painting Takedown at The Active Space
The legend of Bob Ross will go on long after you and I are in the ground. His permed out Afro and "happy little trees" made us smile and laugh. On Sunday night, Mr. Ross was reborn under the wing of "Takedown" impresario Matt Timms. City dwellers accustomed to Matt's home chef food competitions would be treated to an evening of fine art, a cool space and plenty of cheap Sixpoint beer all in the name of charity with the "Painting Takedown," a Timms produced event with proceeds going to Citymeals On-Wheels.
At 6pm, the late afternoon hour brought us inside the fantastic The Active Space in the Bushwick section of Brooklyn. The white walled gallery was already jam packed with loads of painters and people who support art and charity in all its forms. Loads of canvases filled the room all facing a projection screen running an endless loop of Bob Ross episodes from public television. And after grabbing and ice cold Sixpoint "Crisp," we walked the room to scope out the competition. Many of the painters were staying true to the Bob Ross style, using their palettes to create stunning mountain landscapes. Others took the road less traveled, creating next level tributes to Mr. Ross while keeping in touch with their own unique style.  Either way we were seriously impressed and kept our eyes transfixed as each piece took shape.
As the hours rolled on the art unfolded in a truly beautiful way. Even though some pieces were done in a tongue-in-cheek manner, each artist's work showed real heart. From flowing waterfalls to city-scapes drenched in neon moonlight, there was literally something for every taste. The painters got into the over the top act by wearing eclectic outfits, facial hair and of course a ton of spattered paint. Timms himself got into the Bob Ross spirit by doning an outfit and hair style to compliment the man being honored. A few beers and paint strokes later and it was time to call the contest. Yet before a winner would be chosen, a super fun charity-centric auction would be held.
Timms took to the center of the room with the large group of painters behind him all holding their unique works, and began as an auctioneer beginning the bidding process on each canvas. All proceeds would go directly to Citymeals On-Wheels, one of yours truly's favorite charitable causes. For the better part of an hour, each artist presented their paintings as the event goers shouted out very generous bids going into hundreds of dollars. Many laughs were had as Timms and his very talented contestants introduced themselves and messed around.
When the last painting was auctioned and the supreme winner was announced it was time to call it a night. For a non-food Takedown, I felt extremely full. Full of beer, art appreciation and a great feeling for having helped Citymeals On-Wheels to provide our City's sick and needy with life sustaining meals to increase their quality of life.
- Jay Rubin
Related Articles
Share
About Author
(1) Reader Comment