Blog: C-CAP Annual Benefit- The Sights
There was no shortage of familiar faces gathered inside of Chelsea Piers' pristine Pier Sixty space on Monday night. From the evening's emcee, CBS 2's news anchor Maurice DuBois, to the collection of celebrity chefs congregated inside, methodically preparing signature dishes at each tasting station, the stars were aligned on the west side in celebration of fine dining and philanthropy. With some of New York City's most esteemed culinary institutions participating, a nonprofit organization called "Careers through Culinary Arts Program" or C-CAP would host their now annual benefit at the chic venue, boasting picturesque views of the Hudson River on an otherwise brisk March evening.
Since launching in twelve New York City schools more than twenty years ago, C-CAP today has commitments with more than 185 in different areas from Philadelphia to Chicago to Arizona to Los Angeles. With more than 200 different teachers impacting the lives of upwards of 12,000 students nationwide, C-CAP's efforts and their ability to affect the underserved is undeniable. The organization focuses on job training and internships as students are brought along as kitchen apprentices through competitions and scholarships designed to empower those needing opportunity. And today, as proven by the 2013 Annual Benefit, many of the program's alumni find themselves in restaurant and hotel kitchens around the country, afforded the tutelage because of C-CAP's many efforts toward fundraising.
Guests began arriving promptly at the 6pm start time, dressed stylishly to the nines in formal cocktail attire, an unwritten rule which the setting almost subtly demands. Upon entering, the room's lively energy was already filled with frenzied anticipation as patrons made the rounds to each tasting table- some pausing to briefly take pictures with the likes of some well known chefs like Daniel Boulud (Daniel) or Philippe Bertineau (Benoit), while others simply grabbed a plate and continued along their journey of delectable eats. But with the evening's main program slated for the middle of the evening, attendees were clearly trying to make their rounds quickly, to make sure they were able to taste every offering from the forty different participating restaurants.
Red Rooster Chef Marcus Samuelsson
Benoit Chef Philippe Bertineau
With a list of past honorees that includes such culinary luminaries as Marcus Samuelsson (Competes on Chopped All-Stars for C-CAP, on Board of Directors), Michael Lomonaco, Lidia Bastianich, Danny Meyer, and Jacques Pepin, the 2013 C-CAP Benefit would recognize restaurateur Tony May, a trailblazer of Italian cooking authenticity who's made his mark locally at the Rainbow Room, San Domenico NY, and now as the owner of Madison Square Park's SD26. Offering an unparalleled commitment to culinary education, May's presence in New York City has spanned more than five decades, mentoring chefs like Scott Conant, Andrew Carmellini, and Marc Vetri along the way. While his acceptance speech was kept relatively short, it was genuine and inspiring, introduced by Warner Music Group CEO Edgar Bronfman, following a rousing welcome courtesy of C-CAP founder, Richard Grausman.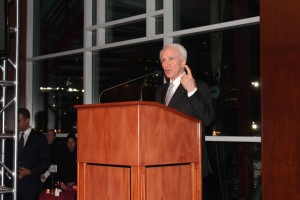 CBS2 News Anchor/Emcee Maurice DuBois                                     C-CAP Founder Richard Grausman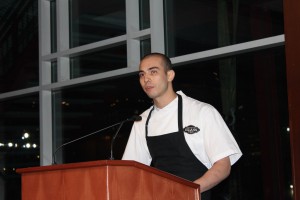 C-CAP Alum Cesar Gutierrez, Lexington Brass                           Warner Music CEO Edgar Bronfman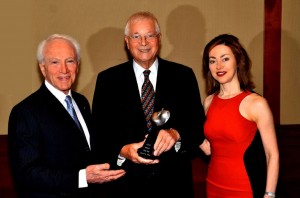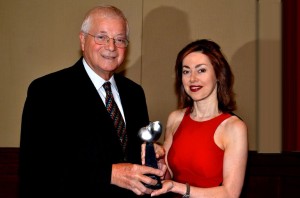 Richard Grausman, Tony May, Susan Robbins          Chef Tony May, C-CAP President Susan Robbins
Although Tony May was the evening's principal honoree, some of the students directly impacted by C-CAP's efforts in advocacy and education were perhaps the event's most celebrated. C-CAP Alumni Thiago Sliva (Pastry Chef- The General) and Kelvin Fernandez (Executive Chef- The Strand) were all smiles at their respective tables, while Lexington Brass' Cesar Gutierrez was welcomed up to the podium to show his appreciation for the effect that C-CAP has had in turning his life around. In between the sounds of scraping forks and the digesting of some truly mouthwatering dishes, the C-CAP Annual Benefit also boasted an incredible array of silent and live auction items, offering once-in-a-lifetime experiences, enticing getaways, and a bevy of food and wine related group tastings. Though you certainly needed some deep pockets to be an active participant, the items were entirely worthwhile and ultimately toward a fantastic cause, had you the financial capacity to afford them.
C-CAP Alumnus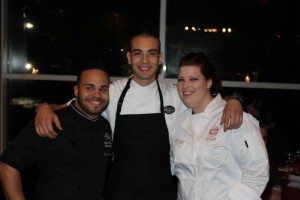 With glasses of red wine in hand, we paraded to each different table strategically, beginning with Torrisi Italian Specialties' outstanding "Duck Terrine." Smooth with a sweet mulberry mustard, each deliciously rich forkful diluted quickly in our mouths and became the dish that we would reflect upon more and more as the evening moved forward. Also worthy of high praise, Chef Kevin Lasko's scrumptiously gastronomic serving of "Escargot" was served with creamy ricotta gnocchi and seasonal spring garlic completing a dish that somehow looked as excellent as it tasted. For sheer inventiveness alone, midtown eatery Felidia's "Tomato Tartare" was another highlighted sample. Slow-roasted with a fresh house made ricotta and topped with a crunchy black bread tagliata, the combination of elements was truly exceptional. We'd be remiss if we failed to mention SD26's offering from Chef Matteo Bergamini. The "Soft Quail Egg Filled Raviolo" was rich and delicate to a touch at once, doused in a sea of creamy truffled butter and parmigiano cheese that danced in our mouths with every salivating chew. With so many distinctive dishes, choosing our favorites proved incredibly difficult- leaving out Asiate's "Sobe Noodles, Trout Roe, and Uni Cream," Dovetail's "Fuji Apple Salad," and Shun Lee Palace's "Peking Duck" from our list of standouts was no easy task. But that only underlines the brilliance of the evening's finest dishes.
Park Avenue Winter's "Escargot"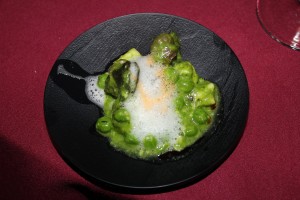 SD26′s "Quail Egg Raviolo"
Dovetail's "Fuji Apple Salad"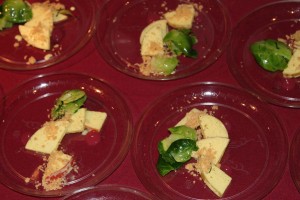 Even though dessert is sometimes considered an afterthought, many in our party felt that the desserts were the Benefit's best samples overall. Sarabeth's "Chocolate Bread Pudding" and North End Grill's "Key Lime Cheesecake" were widely bandied about in our small group. However, the two true standouts here began and ended with Gotham Bar and Grill's concoction- a "Coconut Dacquoise" meshing equal flavors of passion fruit and mango with scintillating hints of vanilla- and The General's "Sticky Coconut Cake" surrounded by an innovative coconut water sorbet, mango sauce, and sweetly braised bits of pineapple. Each dessert was relatively light and refreshing, making superb use of the otherwise polarizing coconut.
Gotham Bar & Grill's "Coconut Dacquoise"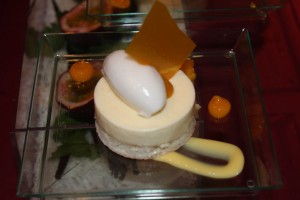 If only the most difficult aspect of life were selecting which of our favorite Manhattan restaurants had set the standard for the finest dish created during an annual charity event. While we were certainly fortunate to be able to attend such a prestigious evening of culinary refinement, it's important not to lose sight of the underprivileged and underserved students around the country that C-CAP's efforts seek to assist while sipping on Champagne bubbles and nibbling on foie gras. There is a greater good at play here and even if you were unable to make Monday night's Annual Benefit, there are ways that you can get involved. For more information on C-CAP or to make a donation, make sure to visit ccap.org. Hey, you may be helping to bring along America's next great chef.  And make sure to scroll through the rest of the delicious dishes in our gallery below.
- Jane Van Arsdale
Related Articles
Share
About Author
(1) Reader Comment