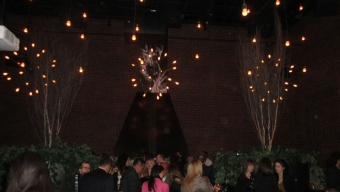 Blog: The Taste Finale Party at Hudson Common
Many of us love to curl up on the couch with some takeout food and bottled beer when watching our favorite television programs. Hey, it's how we wind down from a long day of work. But then again, you live in the greatest city on earth (as chosen solely by New Yorkers), so it's important to take advantage of some of the live events Manhattan has to offer. With that in mind, the chance to get up off that sofa, surround yourself with likeminded television viewers and watch one of the most popular cooking competition shows air its finale episode at one of the city's largest and trendiest venues is too much even for us to pass up. All that said, the LocalBozo.com crew headed to the West Side's Hudson Common, a place that effectively fuses burger spot and beer lovers paradise, featuring a diverse selection of microbrews and classic American style cuisine for an exclusive finale showing of ABC's hit show "The Taste."
For more than three hours, many of the city's most socially locked in and dolled up folks gathered in this vast ornately designed space, sipping expertly made cocktails and frothy brews, while devouring dishes curated by Executive Chef Steve Peterson, who focuses on both traditional and innovative takes on sandwiches, burgers and more. A velvet rope may have divided up the crowd for VIPs, but anyone inisde of Hudson Common on this night was equally as involved in the finale being shown.
Hudson Common's menu visually takes up one of the entire back walls overlooking the crowd below with a selection of items labeled as either "Common" or "Uncommon," ie the more traditional or the more experimental. The lines for these highly popular food and drinks were somewhat on the lengthy, but everyone in attendance looked happy to be there and simply put the wait aside to soak in the experience. The energy inside of the bar was lively and almost feverish for an otherwise quiet Tuesday evening, with a great deal of anticipation for the winner of "The Taste" (sorry, no spoiler here).
After the house was nicely plied with both kicked up comfort fare and craft ales, it was time to screen the season finale of the show and at 9pm on the dot, Hudson Common's big screen lit up with the episode. Since many in the house were huge fans of the show and it's contestants, raucous applause could be heard from the massive long black tables as the opening credits rolled. It should be no surprise to anyone that Celebrity Chef and "The Taste" star Anthony Bourdain, got a huge pop from the capacity crowd. It was like he was literally in the room. During each show segment it was business as usual at the bar and restaurant area, meaning no one was whispering. But "The Taste" is a show about visuals and seeing these hungry, fresh faced chefs doing their thing. And watching it amongst a sea of excited fans was perhaps the best way to experience the finale- couch or otherwise.
Hudson Common is a stunning place for any type of event, viewing party or just a night out after work to blow some steam off and indulge in a taste of the good life. We know that we will continue to be front and center whenever they roll out the red carpet or the big screen.
- Jay Rubin 
Related Articles
Share
About Author
(0) Readers Comments