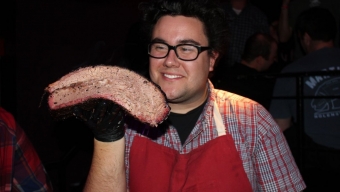 The smoking of meats is an art form, pure and simple. And when a pitmaster knows what they are doing it can equal a religious experience. On Wednesday night, our church of meat was Santos Party House as the downtown club would play host to one of the greatest competitions to hit our city in sometime. Yes my friends it was the 2013 "Brisket King of NYC." For one night only, a collection of the best barbeque chefs in town would gather to truly see who wears the crown.
At 7pm the doors flew open wide allowing all of the freezing meat lovers entry. Since Santos is usually a venue designated for concerts and parties, it's layout made seeking out the marbled meat and drinks all that more interesting. Before grabbing our first bite we hit the bar to sample various bourbons and ryes from the likes of Hudson Valley and Lion's Pride. Next up we grabbed several glasses of Lagunitas Copper Ale, a smooth brew that would later pair brilliantly with the brisket. Since the 2013 "Brisket King of NYC" was completely sold out, you really had to make a plan to grab every savory and unique bite of this historic piece of beef. First up was Sarabeth's who blew us away with a dish that was overloaded with horseradish giving it a pseudo kosher deli feel. It was a literal sauce explosion and the perfect way to kick off an evening of juicy brisket decadence. Next up was one of the most non-traditional dishes of the evening. The always fun team from New Orleans inspired Tchoup Shop came with a beef brisket-duck liver boudin with a handmade creole mustard and pickles. Its slider-like appearance with the fried concoction inside looked nothing like the other meat fare we would try later, but it was nothing short of excellent. 
The first floor of the venue successfully filled us with brilliant brisket. We then climbed the steps to the second level to taste more and have a mini workout. There we found the ever expanding, grilled cheese maven known as The Melt Shop. The team came with their vast knowledge of gooey cheese creations and paired it with the evening's featured dish. They built a brisket sandwich loaded with cheese placed on a soft bun and deeply dipped in a savory meat au jus. Each bite dripped with full beef flavor and needed several napkins after tasting. Speaking of messy yet lovely eats, the team from Dinosaur BBQ came with a sauce topped, perfectly marbled thick cut of brisket. This sandwich was no joke. Personally, I love fatty cuts of meat and this sandwich had it and then some. After those two hulking samples it was time to tone down the size, but not the flavor. The crew from "Butcher Bar" was up next with a bite sized cut of candied brisket and its side of super vinegary pickles. These pickles were fantastic and I would eat them on their own on a regular basis.
Let's just say we were beyond excited to see New York City newcomers Delaney Barbecue: BrisketTown and Mighty Quinn's welcomed into the fold. The respective Williamsburg and East Village joints are on the tip of everyone's tongue both literally and figuratively. But on Wednesday night it was LocalBozo's turn to get down on their choice cuts. Dan Delaney appeared in front of us chopping a gigantic cut of their signature brisket. From its burnt ends to sweet meat it literally had it all. It was served in a boat next to a finely chopped pickle creation. Meanwhile, Mighty Quinn's cut had a deep red appearance and a melt in your mouth feel and flavor that put a saucy smile upon our faces. It should be no surprise that when host Jimmy Carbone took the stage to announce the winners, our newly found favorites took the top two prizes. Mighty Quinn's took the, "People's Choice" win while the grinning Delaney took the "Best All Around" award. It was a serious night for meat lovers to get everything they desire and so much more. If you missed it this year we are truly sorry. But hey, 2014 will need a champ so make sure to buy your tickets early and dig in!
- Jay Rubin 
Related Articles
Share
About Author
(0) Readers Comments