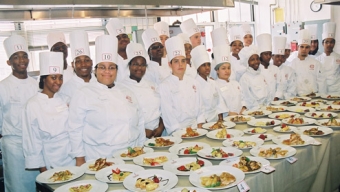 With a collection of celebrity chefs collaborating for an incredibly worthy cause, the nonprofit organization known as the Careers through Culinary Arts Program (C-CAP) returns to Pier Sixty at Chelsea Piers on Monday, March 4th for their Annual Benefit. C-CAP works with public schools across the country to prepare at-risk high school students for college and career opportunities in the restaurant and hospitality industry. As a national nonprofit, the group manages the largest independent culinary scholarship program in the United States and in just over two decades, C-CAP has awarded students upwards of $37 million in scholarships and donated $2.8 million worth of supplies and equipment to classrooms.
It's sometimes easy to overlook the primary cause when gearing up for a fun and festive evening, especially one that features such an esteemed list of participants. But it's imperative not to lose sight of where the fundraising efforts earned from the philanthropic attendees of the March 4th event will go towards. C-CAP's many programs provide training and curriculum enrichment planning like job and teacher training, college and career advising, internships, and even friendly cooking competitions to help motivate and promote initiative in underserved or underprivileged students. And with programs already in place on both coasts (New York, Philadelphia, Maryland, Virginia and Los Angeles) as well as in Arizona and Chicago, C-CAP's is clearly establishing itself as a nationwide presence, with a reach that far exceeds our city lines.
With the evening set to honor one of the nation's most respected restaurateurs, Tony May, who over five decades has managed to set the gold standard for authentic Italian cuisine, guests will have the opportunity to hob nob with some of the finest chefs New York City has to offer and taste some of their delicious fare. Just some of the participating chefs will include Top Chef host and NYC restaurant maven, Tom Colicchio representing Colicchio & Sons, WD-50's Wylie Dufresne, Telepan's Bill Telepan, Red Rooster's Marcus Samuelsson, Torrisi Italian Specialties' Richard Torrisi and Mario Carbone, Scarpetta's Scott Conant, and Tribeca Canvas' Masaharu Morimoto, to name a select few. They'll be serving incredibly savory food samples alongside the four C-CAP alumni tables helmed by the likes of Tiago Silva (The General), Sean Quinn (Chadwick's Restaurant), Alfred Stephens (Olives), and Kelvin Fernandez (The Strand), each of whom has an incredible story to share about how C-CAP has both inspired and changed the course of their lives forever.
Tickets for Monday, March 4th's Careers through Culinary Arts Program Annual Benefit are going fast. Join LocalBozo.com and some of the country's most highly regarded chefs for a night of fine dining, interaction, and advocacy for C-CAP, an organization that is doing some truly incredible work. And if you can't make the event, there are certainly other ways for you to get involved, make a donation, or to learn more about C-CAP by going to their website so that we can continue to encourage a culinary education for underprivileged students that extends well beyond our city borders.
- The LocalBozo.com Team
Related Articles
Share
About Author
(0) Readers Comments