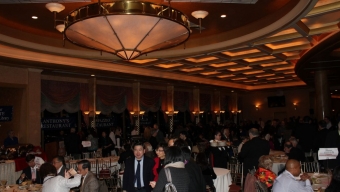 When we say we leave no borough unturned, we truly mean it. Nothing makes us happier than a jaunt on the 7 train out toward Citi Field to join a very worthy cause on a night of celebration. For more than 60 years, the Queens Centers For Progress has generously been assisting those with developmental disabilities to reach their full potential. And on Tuesday night, the LocalBozo.com team joined hundreds of supporters and honorees at Terrace On The Park, a classic Flushing Meadows-Corona Park venue for 2013′s "Evening Of Fine Food." It was most definitely a unique dining experience where yours truly was able to experience the Queens culinary culture first hand.
It's important to remember that although the evening was a smorgasbord of sorts featuring some of the boroughs best eats, the focus was on fundraising for the QCP. The collection of some 600 staff members are focused on promoting an independent lifestyle for their disabled utilizing education and therapy, job placement and training, and advocacy and support services to enhance the lives of those who desperately need their help. The 2013 Evening would also recognize the commitments made by local businesses as President and CEO of Queens Library, Thomas Galante and Senior Vice President at Cathay Bank, Veronica Tsang were honorees of the night's "Chefs of the Year" for their efforts within the borough.
Our team entered the elevated into the sky venue shortly after 6:30pm, and the party was already in full swing, backed by a live stationary saxophone player alternating with a small mariachi band to provide a backdrop of festive sound during the celebration. We quickly grabbed Brooklyn Lager beers from the representatives of the highly popular Williamsburg, Brooklyn brewery, who had brought with them three of their distinctive varieties. Nearby, Raphael Winery of Peconic, NY stood behind a long table, doling out pours from their fine selection of fine spirits. We opted for glasses of their Merlot-Malbec blend which tantalized our taste buds and paired well with some of the meatier food samples being served. With drinks in hand, we quickly made our way over to peruse the Silent Auction items. And since this evening was all about giving back to the QCP, these auction items were outstanding finds and had many bids listed seemingly as soon as the evening began. Gift baskets, spa visits, and guitars were only a few of the available keepsakes, while a 50-50 raffle and the opportunity to win JetBlue tickets for two undoubtedly increased the take for the nonprofit organization even further.
With growling bellies, we made our way over to the very impressive food area. Each fine local restaurant had very friendly staff members on hand passing out generous portions of their signature dishes. First up was "London Lennie's" of Woodhaven Blvd, whose team had a fine jumbo shrimp dish, plated beautifully surrounded by a tasty chimichurri and a bed of chopped mango and onions. From there it was a whirlwind of eating as we attempted to hit each and every spot on the list. Sandwiches from Austin's Steakhouse's tasty Cuban and Buddy's Kosher Deli's separate offerings of pastrami and corned beef sat alongside the hearty Italian chicken dishes and Caesar salad from Anthony's Restaurant in Bayside. But the parade of eateries hardly ended there with Greek fare from Kati Allo, Mexican fare from Tequila Sunrise, and even some classic American-nouveau from Flushing's Deluge, all providing an eclectic assortment of tasty eats.
After tasting some unique dishes from all around the world, it was officially time for dessert. Luckily, the great ladies from The Chocolate Swirl were on hand with their delicious "Booze-y Brownie Pops." The Kahlua and Frangelico varieties were especially rich and were as sweet and decadent as you would expect. We also stopped by the Cascon Baking Company for some choice selections between sips of coffee from Caffe Sacco, stationed appropriately between dessert purveyors on this night. Glancing around at the faces inside of the picturesque Queens ballroom after making several trips around the room, our stomachs may have finally been satiated. But understanding the efforts from the philanthropists that attend this now annual event, the selflessness of the participating restaurants, and the amount of money raised on this night alone to support the Queens Centers For Progress for the following year, were all reason enough for us to have left Terrace on the Park completely satisfied.
- Jay Rubin
Related Articles
Share
About Author
(0) Readers Comments