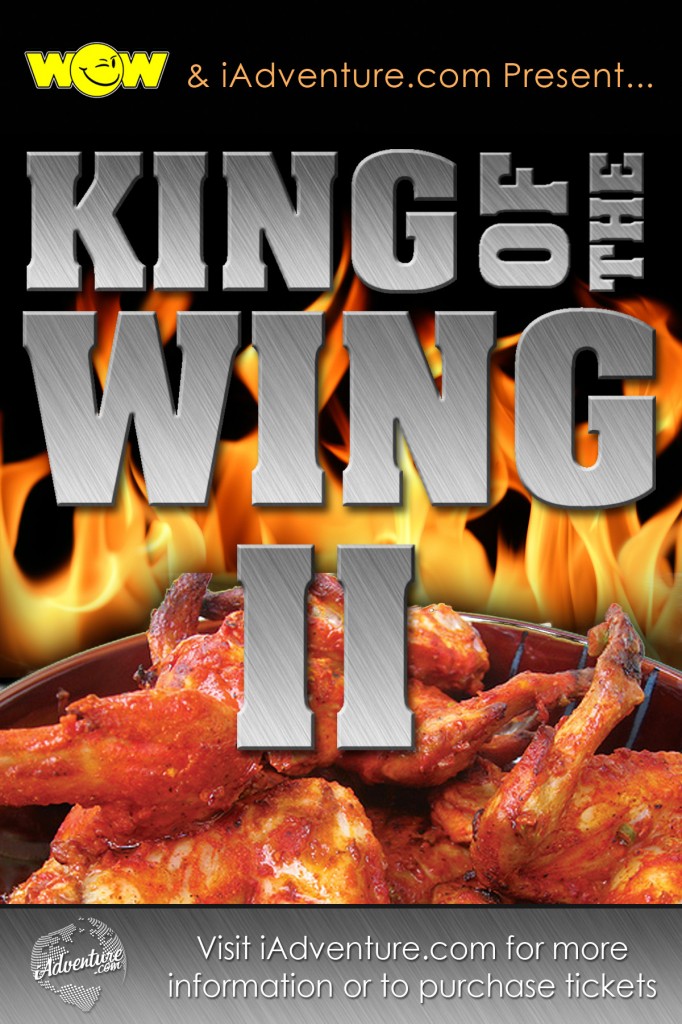 LocalBozo.com has a lengthly documented history of our love of all things, "wings." Since our inception we have worked tirelessly to bring you in depth hosted video reviews showing you NYC's best neighborhoods featuring our favorite handheld saucy chicken snack. Our outlet has also traversed the boroughs providing coverage of wing events we think you need to know about. Well folks, that time has arrived yet again. The innovative people at WoW Events and iAdventure.com are back and ready to bowl over the competition with, "King of the Wing II!" Yes wing fans on Sunday, March 10th your ship has seriously come in. Two overloaded afternoon sessions will allow ticket holders to sample an outstanding variety of wings from many of the city's best bars and restaurants. All of this action will be housed in, "Bowlmor Lanes Time Square" providing attendees with a unique and fun backdrop for the day's festivities. 
You can bet your sauce stained fingers that the LocalBozo crew will be in the house to bring you our specialized coverage. But as always, you don't have to take our word for it alone. Our team was fortunate to spend a few minutes with the ever busy Lev Ekster, Director of Business Development for iAdventure.com to get some insight into this years mega competition. Mr. Ekster provided us with a wealth of information to force you to run and get tickets right away. Last year the immensely popular Village Pourhouse took the wing crown with a seriously unique Peanut Butter & Jelly variety. Needless to say, we are beyond excited to see what they have in store for 2013. Along with the Pourhouse, prepare to dig into wings from the likes of Duke's, Brother Jimmy's, Atomic Wings and so much more. And with all those savory and hot wings you'll need something cold to quench your thirst. No problem, cold drafts of Pabst Blue Ribbon will be on hand for wetting your whistle and putting out the fire! What more can we say but buy your tickets now! They will completely sell out and you do not want to be the one wing lover who had to miss out. Until then, stay hungry!
LocalBozo.com: Bowlmor Times Square is a highly unique venue for a food event such as this. More times then not food events are usually held at bars and convention halls. How will the overall layout work to ensure eaters and competitors can get the most out of the day?
Lev Ekster: We set out to find a venue that had a convenient and easily accessible location for our competitors and attendees. Bowlmor was chosen because it is highly unique and we wanted King of the Wing II to be more of an experience rather than the typical stiff food tasting. King of the Wing II, while taking the competitive aspect of the event very seriously, will also be a day time party cast in a fun atmosphere that attendees will love.
LocalBozo.com: Since, the ever popular Village Pourhouse are the reigning champions of, "King of the Wing" have you heard anything leak from their camp on how they plan to up last years win?
LE: Actually we have. Last year they won with their "Peanut Butter and Jelly" wing and we hear this year's flavor will be even more unique but that's as much information as we can offer unfortunately.
LocalBozo.com:  Our readers are eager to get iAdventure.com's inside track on this years, "King of the Wing II." What are some of your, "must try" wing purveyors for 2013?
LE: Well it goes without saying that the Village Pourhouse is a must try being the reigning champion, but other heavy hitters include Duke's, Brother Jimmy's, Atomic Wings and so on. Every single competitor has been vetted by us and the guys from WoW Events and anyone can win it!
LocalBozo.com: What are some of the rules or guidelines each competitor must adhere to in order to keep the competition fair.
LE: We made it a point to ensure fairness this year. Each competitor can only submit one wing flavor and serve it to attendees with a dipping sauce, carrots and celery. At other events, competitors have been permitted to hand out merchandise and things like drink tickets to their venues as attendees sampled the wings which we banned to ensure zero impropriety. We will let our attendees choose the People's Champion but our panel of esteemed judges will select the Official 2013 King of the Wing.
LocalBozo.com:  Please explain the decision to feature Pabst Blue Ribbon as the beer of choice for all ticket holders to receive drafts of? And also please describe the difference between the,"Entry Ticket" and "Drumstick Ticket" respectively.
LE: We have a long standing relationship with PBR and we feel that their beer really captures the spirit of our events. The events are meant to be fun and easy going while still offering attendees great quality for a good bargain, just like PBR. There is actually only a drumstick ticket available now, which include entry, a PBR draft and wings from all of the competitors!
LocalBozo.com: What was the process for selecting this very exciting panel of judges from major television shows such as, "Top Chef" and "Hells Kitchen?" What makes them qualified to judge a competition such as this?
LE: We wanted to add credibility to the judging. These chefs were highly referred to us and have strong culinary backgrounds. They have unique pallets and cook different cuisines which will allow them to truly appreciate the unique wings they'll be trying. We recently added Ruggy Joesten, Community Director of Yelp! Manhattan top the Panel and have another surprise judge in store…
LocalBozo.com: Even though a wing competition is thrilling on its own, will there be any additional entertainment on hand for guests to enjoy throughout the event?
LE:There is always great music and giveaways at our events and this will be no different. You can also expect a lively atmosphere with Kyle from WoW Events serving as the Official King of the Wing MC.
LocalBozo.com:  Will there be merchandise or any items such as sauce or rubs for sale to the public?
LE: We will certainly have exciting merchandise giveaways but haven't decided whether or not to sell merchandise yet; Our main focus has thus far been ensuring we include as many quality competitors as possible for our attendees to sample that day.
LocalBozo.com:  Please provide us anything additional for the readers of LocalBozo.com.
LE: The event will be split into 2 sessions to make it comfortable to all guests in an effort to keep lines for the wings manageable. However, even considering this, the demand for tickets has been very strong and we suggest people head to our site to snag them soon, using the Local Bozo discount code! Otherwise, they'll have to wait till next year to attend!
- The LocalBozo.com Team 
Related Articles
Share
About Author
(0) Readers Comments