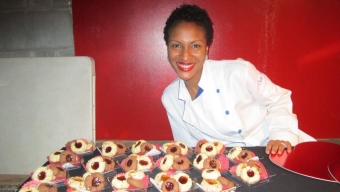 Valentine's Day is literally a few days away and the outstanding team from Clean Plate Co. knows that all too well. This crack team of New Yorkers took the Bushwick section of Brooklyn by storm this past weekend to display an outstanding array of deserts, art and live music before a hungry and energetic crowd. And even though a blizzard rocked our city this past weekend, nothing stopped the sweet fun. On a chilly Saturday night we boarded the L train to Dekalb Avenue and made our way down the snow covered road to Stanhope Street's hidden venue, "Jalreign/CaveRock Room."
Clean Plate Co. was founded by Chimere J. Ward, in the latter part of the past decade. Ms. Ward's mission is to spread the word about sustainable and local foods by promoting nutrition and vitality which is essential to our New York communities and beyond.  The LocalBozo.com team has a serious sweet tooth and love for handcrafted fare that few confections can take care of. But even before arriving we could tell that the Clean Plate Co. was up to the task. After descending the stairs, each guest was handed a premium glass of sparkling wine and a seat in front of the stage for the impending sweets and music galore. As we took our seats we spotted works titled "If Love Be Rough," part of an eye catching exhibition by  photographer Jason Ward, whose pieces are not only outstanding, but a reflection of his love for the city as a whole.
While drinking in the art as well as the wine, the first course was served. Three round cookies of robust joy hit the table, each embodying a character of their very own. These "Truffle-Trois" included the flavors White Chocolate-Pomegranate, Macadamian-Coconut and Dark Chocolate-Strawberry. The Dark Chocolate-Strawberry variety was our hands down favorite since it was chock-full of one of our favorite fruits in it's most natural form.
Before the next decadent dessert would be served, it was time to kick off the music portion of the night. Locals "SmaxMusic" busted out an extremely original variety of rock music laced with infectious Caribbean grooves. Each guitar lick, vocal and drum beat kept everyone in the house bobbing heads long enough for the next course to arrive. If you're a fan of cakes like we are the next entry will knock your socks off. Shortly after the trio of highly original cookies left our plate we spotted a heart-shaped cake perfectly portioned for one eater or for a couple to share evenly.  The cake in question was the lovely and fluffy "Passionfruit Cheesecake Tatin with Lavender Whipped Cream." Seriously, if you make your own whipped cream you are in a league of your own. Therefore I knew jumping into the cake would be an experience like none other. Each bite evenly distributed the subtle passionfruit flavors. Once the cake was in our bellies the next logical treat was served- the "Chocolate-Raspberry Rum Cherry-Vanilla Bean Ice Cream." Once again the fruit was extremely prevalent, making every spoonful a chunky dream. 
Needless to say we left Bushwick both satiated and satisfied. The Clean Plate Co. team is yet another example of creative New Yorkers going out on their own and truly following their passions. Be sure to keep an eye out for events just like this one going down on a regular basis. We know that we will be there and so should you. And trust me our plates will be very clean.
- Jay Rubin 
Related Articles
Share
About Author
(1) Reader Comment