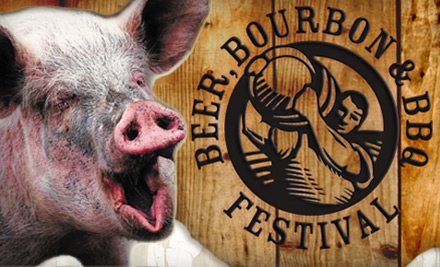 We think Mark Twain said it best when he stated, "Show me a person who can drink beer, bourbon and BBQ in the same day, and I'll show you the happiest person alive!" Mr. Twain didn't exactly say that but you get the point. The act of marrying some of the most enjoyable spirits and edibles together is simply divine. And for another triumphant year, this my friends is a reality when the "Beer, Bourbon & BBQ Festival" returns to NYC's La. Venue event space for 2013! If you were lucky enough to make it out to last year's festival you know we ain't just whistling Dixie here. Two outstanding sessions- "The Bacon Bash Tasting" and the "The Whole Hog Pickin'"- make up a huge day of loveable decadence. As you may recall, the LocalBozo crew spent our evening last year with the whole hog and enjoyed it thoroughly. Needless to say, this is where we will return for 2013′s festivities.
Since we believe that this is truly one of the best events of the year we highly urge you, our loyal readers to quickly purchase the remaining tickets and attend. But again, don't take our word for it. The LocalBozo.com team was fortunate to sit down with Kat Arnold, Senior Event Manager for the Festival in order to get some insight into this year's goings on. And trust us, their crack production team has a litany of exciting new drink and food options to wet your beak and fill your belly respectively. We look forward to seeing you all on January 26th for a seriously good time to eat like a pig!
- The LocalBozo.com Team
LocalBozo.com: What new Beer and Bourbon offerings are you excited to tell ticket holders about for the 2013 festival?
Kat Arnold: We have the very rare Pappy Van Winkle 23yr along with Hirsch Special Reserve and Willett Rare Release. We will have over 40 bourbons for sampling. A full listing is on our drink menu page on www.beerandbourbon.com.
LocalBozo.com: Can you recommend some "Must Do" spirits and food pairings?
KA: Four Roses is releasing a new cocktail with their Yellow Label that sounds like a must try. Cabin Fever's Master Distiller will be onsite to give some bacon pairing recommendations. He will be conveniently located beside a Southern Hospitality BBQ to complete the pulled pork pairing. Bourbon Street Bar & Grille is serving a chocolate dipped pecan smoked bacon stick that sounds WONDERFUL… That will be paired with my belly.
LocalBozo.com: Speaking of food, how were the local NYC restaurants/bars chosen for "The Bacon Bash Tasting Session?"
KA:  We conducted some market research, made a hit list and secured them one by one. Our content manager did a wonderful job with keeping the menus diverse.
LocalBozo.com: Since attending last year's "Whole Hog Pickin' Session" we know how delicious and fun it truly is. Can you please give us some background as to what time each Pitmaster will begin prepping their hog so it's ready in time for this popular session?
KA: Pitmaster Bill sweats his hog for 14 hours. He'll put the pig in the smoker around 10pm on Friday night to be ready for the 1pm presentation and pickin'.
LocalBozo.com:  At the time of this interview only 3 tickets of the offered 40 remain for the, "Grand Poobah Session." What makes this ticket truly special and why were so few offered?
KA: Part of the Grand Poobah ticket that really is the highlight is the seminar "party" that takes place between sessions. All the Master Distillers and Brewers will be in attendance to mingle with the guests. Rare bourbons and special aged casks are ordered specifically to WOW these guests… along with other surprises.
LocalBozo.com: Long lines are a big concern of ticket holders for any festival. What action is the Beer, Bourbon & BBQ Festival taking to make sure the flow is smooth and waits are kept to a minimum for 2013?
KA: We will be starting the Will Call process an hour prior to the doors opening. This will alleviate the wait for check-in when the doors open at noon and 5:30pm.
LocalBozo.com: In additional to the Beer, Bourbon and food tastings what other forms of entertainment can guests expect at either session? 
KA: Harlen Wheatley, Master Distiller from Buffalo Trace will be conducting Tasting Theater seminars full of pairing secrets. Bronx Brewery created a cask conditioned version of one of their favorite beers and will be sharing samples in the Theater as well. Whiskey Professor, Bernie Lubbers, will be taking guests through a flight of products from Heaven Hill Distillery. "Made in the USA Moonshine Extravaganza" will be hosted by Mixologist Anthony Caporale. His cocktails will be available for sampling through the duration of the event. A Bluegrass Jug Band will be playing on the Hayloft Music Stage all hours.
LocalBozo.com: Do you have anything additional to leave the readers of LocalBozo.com with?
KA: The Fourth Annual Porkaggeddon…you've come to expect the best and we are looking forward to bringing it to you again in 2013.
Related Articles
Share
About Author
(0) Readers Comments