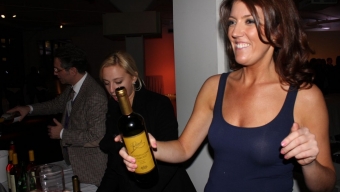 In what appears to be a seemingly never ending celebration of all things fine wine over the past week, we are at it again! The LocalBozo wine and spirits team made our way downtown on a bustling weeknight near the Holland Tunnel for a gathering of walkaround tastings. On Monday night we savored the flavor as the folks at Slow Wine NYC collaborated with Vinitaly International for a refined evening tasting inside the picturesque and spacious Three Sixty. And even though we had sampled a ton of American wines over the past weekend, Slow Wine NYC's take encompassed all that is outstanding from our Italian grape stomping brethren.
The slow food and wine movement have worked tirelessly to support those who produce a product that is not only environmentally sustainable but also relatively reasonable in value in retail price. Keeping that in mind, we exited the elevator with glass in hand and hit the white table cloth covered tables. Our first two samplings couldn't be more distinctive, yet still delicious. To kick the night off right we opted for a sparkling wine called "Millesimato Contratto." The white sparkling was dry and crisp and each sip had a clean feel to it, reinforcing it's drinkablity throughout the year. At the very same table, we sipped on a dry yet fruity Barolo from Vigneto Garretti, envisioning ourselves sipping the glass while devouring a medium rare steak.
Sadly, man and woman kind cannot live on wine alone and as such, Slow Wine NYC tasting had enough edibles on standby to prevent the wines from making you sleepy. Traditional Italian cheeses like Pecorino Romano were laid out to pair with the wine while guests slightly more hungry were offered finger sandwiches loaded with cheeses and cured Italian meats. And for a lucky few who got over to the tables quickly, rustic style pizzas were also offered. Unfortunately the lines became lengthy early on, so systematically we took turns fetching more wine samples as we inched closer to the small bites on hand.
Even though we started with a white sparkling variety, reds are easily our favorites and at the Slow Wine NYC tasting event, Robert Montelpuciano d'Abruzzo was easily one of our top samples. Each sip of the medium-bodied, fruit loaded red, began rather intensely and ended with a surprisingly dry finish. These wines are produced from grapes grown in the northeast of Venice, in an area called Delle Venezie and as we learned, the vineyards and terroir there guarantee a regular source of fruit yielding wines which offer exceptional value based on the region. Aside from family style feasts, Chianti has never really been a go to wine for our spirits team. Yet at an event that celebrates sustainable, smart production we had to give it the old college try. Our tasting came from Tre Borri and their 2009 bottling which for us was overloaded with sweetness, but this version had a certain spice to it that easily caused us to return for more tastings. It also happened to offer one of our very favorite characteristics of red wines- drinkability. A fine middleground between dry and sweet, the Chianti was a pleasant surprise.
Each sip and lively bit of conversation with each notable producer made this an event not to be missed by any devoted wine enthusiast or first timer alike. Yet in the end it was the way in which these fine wines are created that makes them the real star of the event. Slow Wine NYC takes a bit of a different approach in their grading of wines- looking at the totality of its creation from procedurally to environmentally. It's easy to put up your nose at a wine based on taste alone. But it's also encouraging to know that a certain group of folks are looking for a deeper reasoning than just that- and sometimes a bottle of wine can be both tasty and responsibly produced.
- Jay Rubin
Related Articles
Share
About Author
(0) Readers Comments