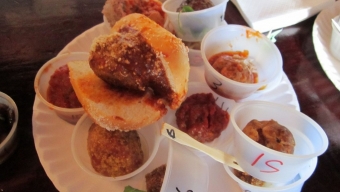 Make all the snarky puns you want. We've heard them all. But yes, on Sunday afternoon our mouths were loaded with balls. Meatballs that is! Master of ceremonies Matt Timms returned to his Brooklyn Graceland, The Bell House for another chapter of his ingenious "Takedown" series. On a weekend that had been filled with near frigid temperatures and even a touch of snow, all attendees were thrilled to take part in this super event where savory hot food would be served in abundance. The LocalBozo crew trekked down to Gowanus for an afternoon of meat filled gluttony and outstanding competition that we won't soon forget.
Shortly after 2pm, the doors flew open wide allowing the completely sold out crowd of Takedown loyalists and newbies into the Bell House's amazing main room. As the sea of humanity trickled into the space, Timms took to the microphone and humorously informed everyone exactly how to "Takedown" the right way. As I've stated in the past, these speeches really set the tone for an amazing day of eating. And eat our faces off we did! Our crew hopped on one of the long yet fast moving lines to load up on a first round of balls. With plate in hand and turned up metal blasting out of the house PA we hit our first tasting. And in a way that appeared to go hand in hand with the overall mystique of the event itself, our first morsel of meaty goodness came from the team of "Righteous Burn." This fun bunch of guys created an Asian influenced meatball that contained: pork, veal, roasted garlic and Siracha sauce just to name a few of the noticeable ingredients. It was all laid out on traditional Eastern soup spoons for a terrific presentation. And adjacent to them, the hilariously named yet tasty "Faceballs." These pork and bacon filled spheres jokingly paid tribute to everyone's favorite Star Wars spoof by Mel Brooks.
With our paper plates overflowing with choice bites from the left wing of the room it was time to find an area to devour and imbibe. We stood atop all the action next to the bar, slugging back "Miller High Life" tall boys and ciders as we tried to demolish our plates while at the same time taking into account each of the numbers to better prepare us for the vote. The savory and interestingly vegetarian selections we received on this round all stood out as excellent in their own right. Brooklyn certainly has balls when it comes to standing out. After another round of drinks we cleared our heads and our palettes for round two of our Sunday afternoon gluttony. The right wing of the room was chock full of avant garde and Italian mainstay versions of the meatball. All of which found a pleasant home in our collective bellies. Cookie Takedown winner Susan Palmer came with a fine crafted and tasty "Meatball Wellington." With my first nibble, I could instantly notice the amount of work that she put into this challenging dish and it seriously paid off. The chef hat wearing team fourteen created what we thought was the most traditional take on the popular meat dish as their version of the much coveted grandmother style of Italian meatballs was juicy and loaded with thick red tomato sauce. And even though the line was packed, we had to go back for repeat samplings.
The second line produced several plate and scale tipping favorites. It was impossible not to love the "Johnny Utah," which was a take on the much beloved meatball hoagie named after a funny scene from the classic film "Point Break." I could see several event goers do balancing acts with their respective plates. Sadly, some fumbled leaving a few stray balls on the floor. Once everyone had their fill and then some, it was time to get judged. The packed house dropped their ballots into the box, and the judges painstakingly met to decide who to crown. As always Timms gathered all the cooks on stage to give them much deserved praise. And after the intros had concluded it was time for the judges to take over. In third place was team "Lion's Head" (13) who had prepared some tasty Chinese style balls. In second was our personal favorite, the aforementioned team number fourteen with the traditional, grandmother's style meatball. And in first was team eight with what was called the "Great Wall of Meatball." The People's Choice winners however were doled out to second runner up, team number twenty-five with the "K-Pop" meatballs, first runner up, the aptly named "Sweaty Balls," and your 2013 Meatball Takdown winner was the funny man Frank with you guessed it "Frank's Balls" (24). This was hands down one of my favorite Takedowns from Matt Timms. Not only did we fill up for both lunch and dinner but we saw a whole new world when it comes to rolling meat into a sphere. All hail balls!
- Jay Rubin
Related Articles
Share
About Author
(1) Reader Comment