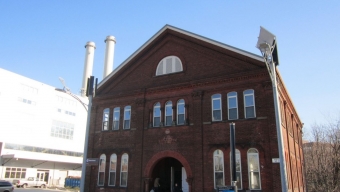 It shouldn't be a surprise to anyone that this outlet has a passion for craft beer. We have been covering the growing community for nearly three years and don't plan on stopping anytime soon. But like any true fan of fine liquors one must diversify in order to get the full picture of what's out there. As a huge fan of bourbon both served neat and in my Old Fashioned, the idea of finding it locally made was something this writer just could not pass up. Enter "Kings County Distillery," New York City's oldest operating whiskey distillery, the first since prohibition. Since 2010 an incredibly smart and driven team lead by founders Colin Spoelman and David Haskell has been making handcrafted bourbon and moonshine in the 113 year-old Paymaster building located in the historic Brooklyn Navy Yard. This past Saturday our crew headed to this homegrown, local business to see exactly how they cook up their fine brand of spirits.
Getting to the distillery is a fun journey in itself. Coming from a close location in Brooklyn, I grabbed the F train getting off at York Street. And after a short walk past the popular DUMBO neighborhood, I entered the guarded gates of the Brooklyn Navy Yard, a great site on its own. This is the same place where Elvis left from when he joined the army heading for a base in Germany. Just past the gates was the century old Paymaster building, perfectly preserved giving us a glimpse into its past. As soon as you pass through its large doors, the smell of corn hits you pleasantly right in the face. But my nose alone could not give me the full picture about how much work and chemistry goes into each old school flask that is available in your local store or bar. Fortunately for us tours are given by "Kings County's" crack team. The packed tour group we joined in on was lead by Nicole Austin who is the head distiller and chemist. Ms. Austin took us throughout the sprawling facility, not wasting a minute as she provided us with key factors ranging from acquiring licensees, differences between moonshine and bourbon, and aging, just to name a few of the enlightening topics that came up.
Once the tour concluded, it was finally time to taste Kings County's pride and joy. Nicole quickly whisked the packed group over to the tasting and sales space just outside of the barrel room. There we sampled three of the distilleries spirits the see how all this hard work pays off. First up was their signature Moonshine. The liquor pours clear and has a nose that resembles a high quality Blanco tequila. The tasting was another story altogether. Each sip presented a delicious bouquet of sweet corn. This eye opening sampling paved the way for Kings' much talked about Bourbon. Previous to my visit, I had only seen the bottle and heard others praise it by name. Well after literally one sniff and sip I firmly agreed with them. This is the type of bourbon that makes you want to chew it to pick out all the savory flavors going on. Needless to say I picked up a 200mL bottle from their shop which was reasonably priced at the time of our visit at only $23. The final tasting was Kings County's experimental Chocolate Bourbon. The chocolate for this hybrid spirit was sourced locally from Mast Brothers of Williamsburg. The coco flavoring was beautiful at the forefront, tantalizing our palettes with a perfectly fitting treat for a Valentines Day celebration.
If you love bourbon, history, science and everything in between you simply have to head to the Navy Yard and jump on the tour. Kings County Distillery tours and tastings run 2:30-5:30pm on Saturday's for the low price of $8. Trust us, at the end of the tour you will be leaving will a bottle in hand. They are simply too attractive to pass up.
- Jay Rubin
Related Articles
Share
About Author
(0) Readers Comments