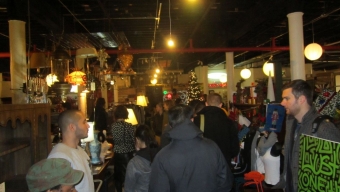 Imagine this if you will. It's Saturday night and you're in the historic Gowanus section of Brooklyn. You walk down a dimly lit driveway and find yourself inside of a boutique film prop space that is also a sprawling market with a full on party taking place. No, this isn't one of those funky dreams you tell your friends over brunch, it's a reality. It's the "Gowanus Nite Market," a highly innovative and DIY (Do It Yourself) to the max event-marketplace going down on the second Saturday of each month at the Film Biz Recycling warehouse on President Street. The LocalBozo.com crew grabbed our Holiday shopping list and  made our way to the venue by the canal for a night of eye candy and commerce that we won't soon forget.
Right around 7pm we ducked inside the mysterious space. For those of you who did not attend Saturday's opening, we can only describe this space as an outstanding cross between Pee Wee's Playhouse and the vault from Raiders of The Lost Ark. But instead of "Chairy" or endless government secrets, guests were treated to a vast space filled with vintage movie props (most for rent or sale) and locally made products and food, perfect for a unique holiday gift. Listen, you're going to be extremely overwhelmed by all the cool happenings inside of "GNM" since there is so much going on. Take our advice on this one please. The best thing for you and your friends to do upon arrival is to just walk the space and take it all in. Sure, you'll eventually have a handful of cool gifts both for yourself and others, but why not check out every nook and cranny of this maze like warehouse. We had the same experience ourselves and it was seriously worth it. From vintage medical supplies to over-sized mirror balls, Film Biz has it all.
The local and independent vendors are seamlessly integrated into the space like they have been there the entire time. There is truly a little something for everyone here. Love playing music and also building? Good, because Bare Bone Supply has got you covered. "Bare Bone" is the maker of a build it yourself guitar kit. The kit contains all the main parts musicians need to make the instrument functional, while allowing them the opportunity to customize it totally on their own. Highly original and one of a kind art pieces that you can both wear and display on your home are available throughout the marketplace. Design Hype has got your bracelets that look exactly like a map of the NYC Subway, while art from Paperschutt  will help to dress up your living room and show friends you have style. And that is literally just the tip of the iceberg. Around every corner you will find something new. And hey, what's a night market without some music right? Popular NYC DJ "CHELA" was on hand spinning a collection of classic early 80′s Michael Jackson. Her upbeat personality and keen DJ ear and style made it the perfect shopping accompaniment.
After you have filled your tote bags to the brim with killer goods it's time to reward yourself with some tasty comfort food. Inside the space you will be able to grab some sweets to take home with you from, Daly Pie. Their pies look so scrumptious that you may way want to just sit on one of the many vintage couches strewn throughout the space, just like at grandmas house! Travel outside to grab nite bites from popular food trucks all doling out a wide selection of choices. Since winter is upon us it was only fitting to grab grilled cheese sandwiches from the guys at Food Freaks. Trust us folks, this ain't your mothers grilled cheese. The "Freaks" make a three cheese sandwich including: fontinella, gruyere, aged gouda blend on potato pullman bread. We simply couldn't pass this up, and made sure to order it with fresh tomato. Each crunchy bite evenly provided a taste of all three cheeses making it a serious winner.
With stomachs and tote bags full it was time to call it a night. There are very few things in NYC these days that surprise me, but this was certainly one of them. So do yourself a favor and mark the second Saturday of January on your calendar right away. You may buy some cool gifts, tasty foods or even movie props! Either way make no mistake of it, you won't be using the word "Flea" to describe this market. And that's a good thing.
 - Jay Rubin
Related Articles
Share
About Author
(0) Readers Comments