It's an indisputable fact. There is no more adorable breed of dog than the bulldog. But with the difficulties in being able to intricately care and arrange a comfortable lifestyle for the pudgy, heaving breathing four leggers, owning one certainly has its share of challenges. Enter the Long Island Bulldog Rescue, a nonprofit organization that provides services from education to adoption throughout the northeast to insure that the dogs are adequately maintained and well raised.
On Tuesday night December 4th, the Long Island Bulldog Rescue with help from the Petco Foundation will be hosting 'Cocktails For The Paws,' a fundraising benefit for the LIBR at the Midtown Loft on 5th Avenue. The guestlist includes such luminaries as Baby Howard and Beefy the Skateboarding Bulldog walking the red carpet, and will be hosted by the beautiful model-turned-animal activist Beth Stern (former Ostrosky), wife of New York City's own Howard Stern. It's an evening to celebrate the fine work being done by the folks at the LIBR and for guests to enjoy hand crafted mixed drinks, hobnob with some celebrity guests, take a turn inside a social photo booth, and open up their wallets for silent auction items.
If for some reason you can't make Tuesday night's gala, at least take the time to visit the LIBR website at longislandbulldogrescue.org and consider making a donation, which goes directly to the rescue and daily care of these beloved animals. And to pick up tickets to the fantastic event, click here now!
- Jane Van Arsdale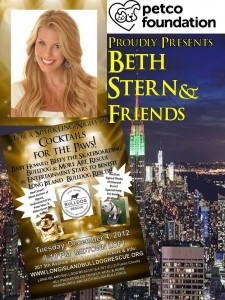 Related Articles
Share
About Author
(0) Readers Comments