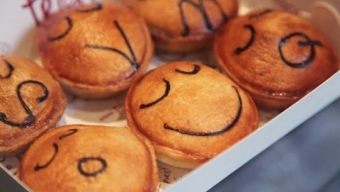 LocalBozo.com wants to bring you and a guest to Pie Face in Murray Hill for an exclusive experience as a loyal reader of this very website.  On Wednesday, November 14th at 6pm, you and a guest will sample all of the restaurant's new fall pies right alongside your buds at LocalBozo.com. In our private tasting session, LocalBozo.com will accompany two lucky readers and their guests to the 34th Street pie shop for a smorgasbord of delectable eats courtesy of the Aussie pie purveyor.  We'll exchange our thoughts on each sample and you'll play in integral role in how our coverage is shaped.  Plus, you'll get to taste a bevy of different pies for FREE, just for being a loyal follower of LocalBozo.com!
Together, we'll sample Pie Face's brand new personal sized "Thanksgiving Pie" filled with delicious turkey and stuffing, mashed sweet potatoes and cranberry sauce as well as four sweeter dessert pies made specifically for the season: apple, coconut custard, pumpkin and pecan.  If that's not enough, we'll also explore the rest of their exciting menu with the likes of Pie Face's "Chunky Steak," "Chicken & Mushroom," "Tandoori Vegetable," "Mince Beef," and "BBQ Pulled Pork" on top of it all.  Nobody brings you New York City like LocalBozo.com and nobody appreciates their readers more.
What: LocalBozo.com's Thanksgiving Pie Face Giveaway
Who: Two lucky winners, each with a guest
When: Wednesday, Novermber 14th, 6pm
Where: Pie Face, 507 Third Avenue at 34th Street
How to Enter: All you need to do to enter is follow LocalBozo.com on twitter and tweet us out @localbozo.  Just creatively tell us why you would #DieforPie. (Throwing in a mention for @PieFaceUSA gets you extra points!)  We'll select our two favorite tweets by early next week and then, all that's left to do is put on a bib and eat up.  It's as simple as that.  What have you got to lose? Enter now!
Related Articles
Share
About Author
(0) Readers Comments