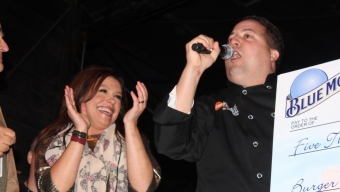 What's your favorite burger in the city? Hard question to answer right? For three fantastic years in a row, the good people at the Food Network Wine & Food Festival have been working tirelessly to help guide you in the right direction. Now this isn't some top ten list or even some in person taste test. No, it is much more grand than both of those combined. You have heard the stories of an epic evening dedicated to partying, eating, and crowning a champion. And as someone who has finally experienced it, I can tell you it's all that and so much more! That's right, LocalBozo.com was at the 2012 "Blue Moon Burger Bash." And for one triumphant evening we were a party to some of the greatest burger making minds in our fair city. Intimidating yes, but delicious all the way.
We entered the outdoor venue, located inside Basketball City in the Lower East Side just moments after the event had kicked off.  Needless to say the place was already jam packed with burger loving revelers.  It should also be said upfront that this October fall weather combined with being close to the water made for a particularly chilly evening. But the competition being grilled up under the massive tents was hot enough to keep us warm despite many event goers and Food Network royalty seen donning scarfs and jackets. And speaking of scarf wearing celebrity chefs, the first table we hit was from Bobby's Burger Palace.  Bobby Flay himself greeted guests as they sampled his highly regarded "Crunchburger." This well seasoned and juicy burger was served with a heaping pile of crisp potato chips, providing its namesake crunch. Flay's burger hit on all the right notes, and was as perfect choice as any to launch our first "Bash." Without a Bobby's Burger location in New York City, it was our first chance to sample the 2010 People's Choice, and was one of the lengthiest burger lines of the entire event. It goes without saying that burgers go very well with beer, especially good beer. Luckily the good people at Blue Moon Brewery were on hand as the events main sponsor handing out both large cups and buckets of their signature bottled ales.  The orange notes of this wheat beer go perfectly with a juicy burger, making it a satisfying total experience.
Next we made our way to the table of the two time "Burger Bash" winner Chef Josh Capon's (Burger & Barrel, Lure Fish Bar). Chef Capon was all personality from the word go. This guy seriously knows how to sell burgers and himself.  The reigning champ came to the event with his prize winning "Bash Burger" aptly named from his previous wins. Film crews and other members of the press clamored to his table to interview him and sample this medium rare, bacon jam piece of burger supremacy. Our sample yielded that same distinct, satisfying flavor we have come to love from B&B which is always a tremendous dining experience.
One would think that all of these burgers would just blend together, making it difficult to tell them apart. Well friends, that was simply not the case here. Gotham Bar & Grill came with what we would call the smokiest burger of the night. It may have been a small slider, but this bite size sandwich packed a punch when it came to these deep flavors. Meanwhile, Schnipper's use of bacon and a traditional soft bun placed it high on our list of comfort style favorites. One of our personal favorites was from Chef Kevin Lasko of Park Avenue Summer with an ideal example of a professionally made "Fast Food" burger. This extremely tasty sandwich came loaded with mustard, veggies, and of course a perfectly smashed burger patty. But the seasoned meat was among the most delectible of the entire Bash. We truly loved it, and went back for seconds.
There was so much more going on inside the Burger Bash than just a grilling cookoff. A large group of tables filled the space where old friends and new could gather and chat about burgers or really anything else that cold brews bring up. Providing a soundtrack to the eating and drinking, a live cover band sat atop an erected stage toward the back of the pier, busting out songs from Bruce Springsteen to Carly Rae Jepsen's "Call me Maybe." Folks could be seen dancing around and singing along.
After the last burger had been bunned and plated, it was time to announce the winner. Voting was conducted by guests taking poker chips given to them upon entry and placing them in their favorite burger joint's slot.  "Burger Bash" host and mega food personality Rachel Ray took to the stage with much fanfare along with festival impresario Lee Schrager to announce the winner. Rachel was all smiles, loving every minute of the "Bash" and celebrating the many tastes of the evening. The moment had then arrived and with little hesitation Ray and Schrager read the winner's name. And yes, for the incredible third year, Chef Josh Capon and his "Bash Burger" would take home yet another "People's Choice" victory. Chef Capon wasted not a second to grab the microphone and celebrate his win in a very bold manner. The restauranteur could have easily been heard two neighborhoods over as he celebrated his win just like a prize fighter would. Although the Judge's Vote went to Chef Michael White's Ai Fiori, it was Capon that stole the show.
The "Blue Moon Burger Bash" proved if nothing else that creating a great burger is no simple task. And in its 5th year, the New York City Food Network Wine and Food Festival had pulled off its biggest Bash yet. Long heralded as the most anticipated eating event of the year, the "Burger Bash" was an outstanding look at just some of the excellent handheld pleasures that the City has to offer. And best of all, the entire event felt like one big party. Somewhere around New York however, cardiologists are seeing dollar signs resulting from this deliciously decadent red meat science.
- Jay Rubin
Related Articles
Share
About Author
(0) Readers Comments