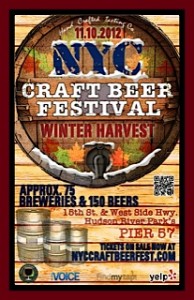 This past June, the LocalBozo.com crew brought you full coverage of the superb "Brooklyn Waterfront Craft Beer Festival!" It was a loaded day, filled with two triumphant sessions of seasonal beer samplings and picturesque weather. The entire day was smooth and highly enjoyable for all in attendance without any of those pesky lines that drag down other fests. We may be a far cry from summer but that means nothing to the world of delicious craft beers. The great people at "The Hand Crafted Tasting Company" are back proudly announcing the "NYC Craft Beer Festival – Winter Harvest Edition," featuring Winter craft beers at Hudson River Park's Pier 57 Indoor Event space at 15th Street and the Westside Highway on Saturday, November 10th, 2012.
That's right, great beer never takes a vacation! During the event, leading craft beer experts will host intimate, 50-person, first-come first serve seminars, and many brewer representatives will be available at the taps to educate guests about their liquid offerings. Need more reasons to get excited? No problem! Chef Stephen Durley and Beer Sommelier Hayley Jensen from Taproom No. 307 will host a Thanksgiving themed beer pairing to educate attendees about excellent beer choices to select for the upcoming holiday meal that falls two weeks after the Winter Harvest themed NYC Craft Beer Festival. The Chef's offerings at the seminar will include beer brined turkey breast with brown ale gravy, Hefeweissen stuffing, roasted Brussels sprouts with bacon and truffle salt, and pumpkin ale pie all paired with curated craft beer selections.
Thirsty yet? Well your friends at LocalBozo.com want to send you and a guest to the "NYC Craft Beer Festival – Winter Harvest Edition!" That's right, on November 10th you and your favorite drinking companion can spend one of two sessions sampling approximately 150 American winter craft beers from 75 breweries. Entering is super simple. First just follow @LocalBozo on Twitter, because seriously who else hooks you up like we do? Next, Tweet at us the hashtag: #NYCCBF followed by the website NYCCraftBeerFest.com. Finally, put a bow on it providing us in a few words why we should choose you for this exclusive day of imbibing the best of craft beer! Well brew fans, you have your mission. Enter as many times as you like, but be creative! Our team will announce the winner on Twitter this Friday. So stay tuned and most importantly, drink up!
- The LocalBozo.com Team
Related Articles
Share
About Author
(0) Readers Comments