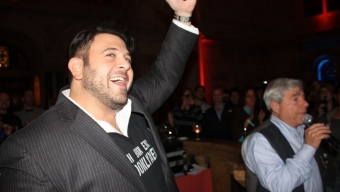 "Where Brooklyn at?" shouted Kings County's own Adam Richman kicking off his lively hosting of Saturday night's Food Networks Wine & Food Festival "Brooklyn's Backyard" event. The Travel Channel host was all personality on the mic after being introduced by the equally personable Brooklyn Borough President, Marty Markowitz. Ft. Greene's Skylight One Hanson building was the home to this culinary appreciation of all things Brooklyn with Richman and Markowitz joined by a sold out crowd of die hard locals and borough visitors all wanting to sample and indulge in the very best restaurants and specialty shops from nearly every neighborhood. The LocalBozo.com team was there in full force to bring you this deliciously full report.
From the classics to the contemporary, every type of noteworthy fare was proudly on display Saturday night. Speaking of old school Brooklyn, we kicked off the night with a hearty "Roast Beef" sandwich from Nostrand Avenue's famed Brennan & Carr. After sinking our teeth into the sandwich, the perfectly cooked beef melted in our mouths aided by their signature sauce made directly from the meat drippings.  From there we kept with the traditional Brooklyn culinary theme and ventured to the heavily packed L & B Spumoni Gardens. I have lived in or hung out in Brooklyn for a total of seven years and not once have I made my way to this historic pizza destination.  Well on Saturday night that changed forever. After making our way to the front of the line we were handed a slice of their storied "Sicilian Slice." The first bite had to be perfect with all the build up, and thankfully it was.  The sauce and bread worked brilliantly together. No more will I be lazy; to Bensonhurst at once!
LocalBozo favorites Fort Reno, Sidecar, and Allswell were all in the house doling out excellent examples of their fine mastering of the culinary arts. Chef Jacques Gautier (Fort Reno) brought his always amusing yet highly efficient portable bike smoker to the event. And from it was borne some super savory ribs which were paired nicely with their creamy slaw. Bart and John DeCoursey (Sidecar) fulfilled their plan laid out during our video interview running up to this event. The combination of pickled onions and tangy yet delicate fish made for a tasty yet playful sensation, while Allswell came out swinging with a highly inventive and original "Smooth Shark Confit with duck fat potato and Chimichurri." With so much going on with this dish, I assumed my mouth might get confused. Luckily it all worked together in harmony.
As guests walked around the spacious venue, there was never a shortage of smiling faces. This may have totally been due to the seemingly endless wine pours from local vineyards or the bartenders eagerly wanting to hand you bottles of delicious Captain Lawrence craft beers. Throughout the evening I spotted droves of old school Brooklynites who looked like they just saw Barbara Streisand at the Barclays Center mingling amongst fresh faced hipsters.  Either old guard or new it really didn't matter on Saturday. This was Brooklyn's night to show the rest of the city who we are and who we are becoming. And we shined as bright as ever in the midst of the most bandied about eating weekend every year.
- Jay Rubin
Related Articles
Share
About Author
(0) Readers Comments