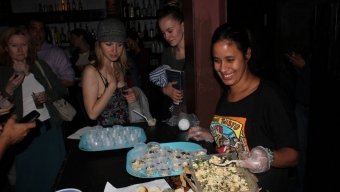 Blog: The Masters of Social Gastronomy Get Shelved Preservatives and Convenience Foods
Aside from a completely organic diet (and even then, it's questionable), it's nearly impossible to avoid the preservatives associated with convenience foods. Grabbing food quickly and getting back on your way is a staple of living in New York City- be it buttering up some popcorn at the movies or grabbing a snack at a local bodega. On Tuesday night, the LocalBozo.com crew made our way to Williamsburg, Brooklyn's Public Assembly to attend a lecture in a series delivered by "The Masters of Social Gastronomy" or "MSG" for short. The free monthly event was produced by the "Brooklyn Brainery" a community-driven organization working toward making learning for adults a fun experience, one class at a time, and by Sarah Lohman, the creator of the "Four Pounds Flour" blog.
As soon as the doors opened, guests of the innovative September lecture- with a 'Preservatives and Convenience Foods' theme- filed into the free event, grabbing drinks and quickly eating up every available seat. Soon after, "MSG" hosts Sarah Lohman and Soma of the "Brainery" hopped onstage with vim and vigor for a lively introduction as to how the event would be broken up that night.
Lohman would take the stage first for "Ode to Convenience Food in Three Parts," her highly informative and humorous take on this game changing history. It was a discussion about the foods that many of us put into our bodies on a daily basis and gave an understanding of each's respective lineage. We learned a plethora of fun facts from her lecture alone. For instance, during the time of the Civil War, it was a struggle to keep foods from spoiling and to combat this problem, in the mid-nineteenth century, Gail Borden, Jr. invented condensed milk, which from that point on changed food preservation forever. Previously, and right here in our own Brooklyn, "Swill Milk" as it was called, was made by feeding cows disgusting materials like distillery waste yielding drunk cows and highly polluted milk product. The canned milk creation not only made things more convenient but most likely saved many lives as well.
Lohman's personable approach and loaded examples made this lecture easy to digest (sorry I can't help myself with the pun) as many of her examples graphically explained how crude the manufacturing of some of the world's most popular foods were. Many candies had ingredients in them that were down right poisonous, while sausage production was another horror story altogether, exemplified through a reading of Upton Sinclair's "The Jungle." Since these MSG lectures are highly unique, samples of the convenient foods discussed were made available to guests, thus making the event a truly hands on experience. The offerings were sweetened condensed milk and the popular spreadable snack food "Cheez Whiz," served respectively on chunks of white bread.
The social gastronomy kept chugging along when Soma leaped on the stage to discuss several examples of preserved foods and their specific preservatives. Yet it was his lecture of the legendary and much maligned "Thousand-year egg" or "Century egg," a classic Chinese delicacy that involves preserving duck eggs in a combination of ash, salt, lye, and tea leaves, that was truly eye opening. Although it's not actually been aged for a thousand years, when you consider one of it's main ingredients is Lye, which is a corrosive alkaline substance, it may cause shivers down your spine. And just like Sarah, Soma came with samples. I'm not going to lie, I was quite nervous about trying something that has the potential to make me sick. But for you, our loyal readers I said, "What the heck, bring on the old eggs!" Soma's example was, "Pidan Doufu" which combines the eggs with tofu and a sauce mixture. Even before the staff laid out cups of the mixture I could smell it from the sealed container. It was a strong, vinegary odor. Once I tasted it I still received the same strong taste sensation, but it certainly wasn't the terror I was expecting. Just not something I would probably ever try again.
Our first outing to this Brooklyn Brainery/Masters of Social Gastronomy was a total blast. Both Lohman and Soma's presentations were highly informative and humorous and they made learning about these two topics which would have seemed bland on paper, a fun and enriching evening. You may attend food and spirits events on a regular basis just like we do, but once a month you have to hit up an MSG lecture. They seriously put a large red bow on the New York City food experience.
- Jay Rubin
Related Articles
Share
About Author
(0) Readers Comments