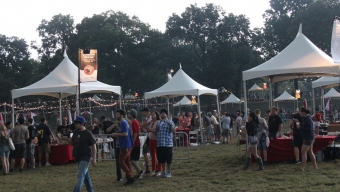 Where else but in New York City can you travel to an island, eat a plethora of unique meat dishes, all while persevering through a nasty storm that resembled the ending of Ghostbusters? This Saturday, droves of carnivores and those who love them took the short ferry trip over to Randall's Island for what is on record as one of the most exciting food outings of the year. It's Meatopia, the so-called "Woodstock of Edible Animals," now celebrating its ninth official year. This perfect end of summer event was founded by Josh Ozersky, well renowned food writer and television personality. The LocalBozo crew braved the weather and docked on the island to consume these choice eats and report on all the fun.
The setting for the 2012 Meatopia was a huge grassy plot of land on Randall's Manhattan facing side. White tents and strung light bulbs could be seen for a half mile away, giving the event a real carnival type feel. And with the impending nasty weather, the lights were a much needed addition to keep everything well lit as we entered the darkness of the storm. One of the first places we hit truly set the tone for the entire afternoon. Aaron Franklin's "Texas Beef Brisket" was not only one of the most simple yet extremely delicious dishes of Meatopia, but it also had the longest line. As the hard rain began to fall, it literally did nothing to disband the line. No one who waited this long for Mr. Franklin's savory brisket would let a little bit of rain get in the way. Nearby, Harlem institution Dinosaur BBQ was on hand with a gigantic smoker proving once again how serious they are about meat. Dinosaur's Meatopia offering was pork ribs and BBQ chicken. We opted for the insanely delicious ribs full equipped with hunks of fresh meat easily falling off the bone. They were well sauced without letting it take over the meat.
Just after our second tasting of the day, the weather took a drastic turn. When we initially entered the open air venue we could spot the dark storm clouds overhead but we opted to hope that they would pass. Unfortunately that wasn't the case. What transpired was a storm of awesome proportions that in turn brought us closer to one of the meat purveyors then we ever thought we would be. Once the rain began to fall in sheets we quickly took refuge under the tent of a very friendly group from Portland, OR. They were nice enough to let us hang out until it passed while offering us an abundance of meat that would have otherwise gotten soaked if it wasn't for our intervening.
Eventually the rain let up enough to begin wandering the now muddy grounds in search of more mouth watering red meat. Pat LaFrieda, is known as the premiere meat purveyor in the tri-state area. And if you have ever grabbed a burger from a joint that uses LaFrieda meat you can easily tell the difference between their competitors. The purveyor came to Randall's Island with an entire "Whole Thousand-Pound Marinated Creekstone Steer." They literally had an entire cow cooking on a specially made grill and it took an entire team of grill masters and butchers to pull off this operation. Each cut was completely different and unique. Some were fatty and salty while others had a sweeter flavor,a likely result of the wood used. Meanwhile, the Spotted Pig's own April Bloomfield set up shop directly next to LaFrieda touting her creative, no nonsense approach to preparing pig which has given her so much well deserved acclaim. Bloomfield and her team created their take on traditional, "Kansas City Style BBQ'd Whole Hog." The beautifully prepared handheld dish was served on a slider type role topped with a creamy homemade slaw and paired on the side with a quartered buttery corn on a cob. It was downright perfect in nearly every way and was the highlight of Meatopia for this outfit.
Each tent brought with it culinary surprises- from scrambled brains and eggs to Squab (pigeon), one's palette was truly tested. But alongside these many food adventures one could embark on, we feel it's equally important to meet the people behind the creations. Along with the big names we have already mentioned it was fantastic to see the likes of Chefs Zak Pelaccio and Josh Capon hanging out at their stations as well as mixing in with the crowd. Another big surprise came when we approached a tent featuring a portable brick oven for pizza to find out the true surprise was seeing actress Debi Mazar (Goodfellas, Entourage) as the representative handing out the food. While the 2012 iteration of Meatopia was weather soaked, even the harshest of rain couldn't put out the fire raging in the bellies of each and every meatlover that trekked it out to Randall's Island on Saturday night. And their pangs of hunger were satiated by some of New York City's most talented chefs all evening long in the year's best food tasting event.
- Jay Rubin
Related Articles
Share
About Author
(1) Reader Comment