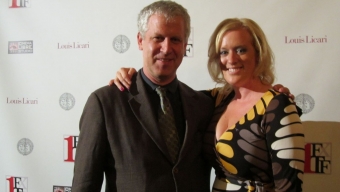 For any budding filmmaker, establishing one's voice is paramount in the first steps to success. It is therefore of the utmost importance for these hardworking men and women to embrace opportunities which lead them to achieving said goal. The all encompassing film festival is an obvious choice. Yet in a highly saturated marketplace it is difficult for this new generation of first time directors, screenwriters, and producers to truly be heard. Enter the inaugural "First Time Fest," a four-day, multi-faceted event honoring the work of these newly minted artists. "First Time" will take place on March 1-4 2013 right here in the Big Apple and in celebration of this highly innovative and momentous festival, a launch party was held Thursday night at New York City's "Players Club," a Gramercy Park artist institution founded by Edwin Booth and Mark Twain. The site also doubles as the location for much of the goings on during the festival.
It first must be said that this was our first foray inside the legendary walls of the Players Club, a truly majestic venue, transporting one back in time to New York City's artistic roots. Guests of Thursday's launch party enjoyed hearty glasses of wine and artisan cheeses while mingling in three classically ornate rooms. We toasted, chatted, and laughed with many of the city's established filmmakers and industry professionals, giving us a taste of who will be supporting this exciting new venture. Well known actors such as Mickey Sumner (Frances Ha) and Jon Abrahams (Boiler Room, Scary Movie) came out to lend their name and support as well. After the cocktail hour portion of the evening, guests were invited into the main hall to meet the festival's founders.
"First Time Fest" was co-founded by Johanna Bennett an accomplished philanthropist and actress, as well as the daughter of singer Tony Bennett (who also dropped by). Bennett was joined by festival business partner Mandy Ward, who has worked in the film industry for nearly ten years as a producer of several projects and Mitch Levine, CEO of "The Film Festival Group", an adviser and consultant to the team. Meanwhile, David Schwartz Artistic Director and Head Curator of the Museum of the Moving Image will serve as the Director of Programming for the festival. The moment Bennett and Ward hit the stage to announce the details of "First Time Fest" to the packed crowd of industry, actors, and press respectively, their passion for the arts quickly became clear.
"First Time's" dedication to these local filmmakers is literally all encompassing. Not only will each of the twelve finalists have his or her feature screened during the festival before an audience (films will be screen at the Loewes Village VII on 11th Street & 3rd Ave) but they also will receive a one-year, high-level industry mentorship. This means regular contact with prominent members of the independent filmmaking community from producers, distributors, sales agents, and more. The founding team is providing this vast array of highly sought after tools. The lucky and much deserved "Grand Prize Winner" of the festival will be presented at an exclusive gala on the final day of the festival. The winner will receive an offer of theatrical distribution arranged through a partnership between "First Time Fest" and Cinema Libre Studio.
Our team truly enjoyed ourselves at this very passionate kickoff event. As you know the LocalBozo.com team is all about supporting events and businesses that are indicative of what makes New York City great. The same can be said for festivals that seriously support artists and give them a voice. Needless to say, we can't wait for these four days in March. So filmmakers: what are you waiting for? Head over to, "First Time Fest's" website and find out how to get your submissions in right now. If you have ever thought about getting your ideas on the screen, the "Time" is now. 
- Jay Rubin
Related Articles
Share
About Author
(0) Readers Comments