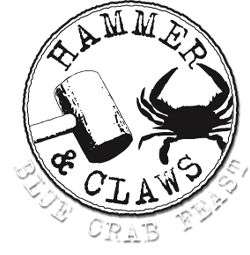 It's official: Labor Day is no longer the end of summer! Yes it's true, the season of the sun has been extended. And this all thanks to one event now entering it's second triumphant year. It's the 2nd Annual 'Hammer & Claws Blue Crab Feast'- the weekend long festival of cracking Chesapeake Bay Blue Crabs and drinking good brews, all in the company of great people hits New York City from September 7th – 9th.
The location of the event matches the enormous nature of the feast itself. The historic Tunnel Space which has been used as a club and Terminal Stores is massive, offering ticket holders a unique experience with a built in vibe for celebration! 'Hammer & Claws' comes to us from the mind of Joshua Morgan, a Maryland native and the founder/owner of Choptank Restaurant – New York's first authentic Maryland inspired restaurant. Morgan and his staff have gone over every detail of the feast with a fine toothed comb to make sure it matches the authentic Maryland summer crab experience. And if 2011′s highly successful 'Hammer & Claws' is any indication, we know that we're in for a weekend to remember.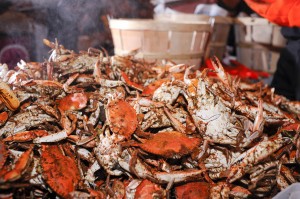 Heaping piles of live Chesapeake Bay Blue Crabs will be cooked onsite all weekend long which will provide a feast fit for both eyes and mouth. Don't forget that this feast is all you can eat, so come hungry and thirsty for lots of cold beer! The crabs may be the main dish and the feast's namesake but guests will also be able to enjoy outdoor classic items like hotdogs, traditional sides, coleslaw, potatoes, and corn on the cob. If your eyes aren't bugging out of your head with excitement right now, you must live on a crab boat already!
The 'Hammer & Claws Blue Crab Feast' is an event that seriously cannot be missed. Spend the true last weekend of summer with hammer in hand, cracking away on those beautiful blue crabs and drinking tasty brews. Who cares if you make a mess? It's all in good fun. Tickets are on sale and are moving quickly so be sure to head over to their website now, and grab up some spots while they last! A portion of the proceeds from the Hammer & Claws Blue Crab Feast will be donated to the CBF to help the foundation in their continuing efforts of restoring and protecting the Chesapeake Bay. To learn more, please visit www.cbf.org.
- Jay Rubin
Related Articles
Share
About Author
(0) Readers Comments