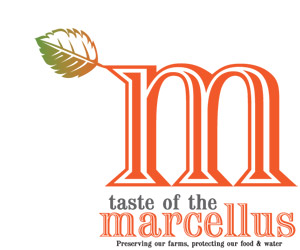 While the process known as hydro-fracking is largely an unknown to most New Yorkers, its effect are almost certain to have an injurious consequences on our local surroundings.  Fracking, as it's commonly called, is the process by which natural gas is extracted from a fine grained, sedimentary rock called shale and it involves drilling thousands of feet into the earth to do so.  The lasting effects have been suspected to adversely impact the state's water supply, air, soil, and subsequently the farming and food business from the resulting hazards.  Although fracking is currently in practice in roughly thirty states presently, New York to date has resisted succumbing to the process, citing the potential dangers involved.  However, recent reports have surfaced indicating that Governor Cuomo is considering the allowance of fracking to begin in some of the state's economically depressed southern counties.
In an effort to combat the push toward fracking and to prevent putting our state's food and clean water supply in jeopardy, some of New York City's highest profile chefs and restaurants are working together in an effort to raise funds and awareness of the perils of hydro-fracking.  On Thursday night, July 26th, luminaries from the likes of The Meatball Shop (Daniel Holzman), Gramercy Tavern (Michael Anthony), The Stanton Social (Chris Santos), Fatty Crew (Zak Pelaccio), Back Forty (Peter Hoffman), and Telepan (Bill Telepan), amongst a slew of others will be collaborating for an extravaganza at the Brooklyn Winery dubbed "Taste of the Marcellus."  Named after the state's 28 county Marcellus region, the evening will feature the wines and beers indicative of the region along with similarly regional fare, intricately prepared by each notable chef.  Not to mention a full on event after party at nearby Brooklyn Bowl, sponsored by Ommegang that runs until midnight, with tickets as low as $25.
LocalBozo.com sat down with Hilary Baum, one of the organizers of the "Taste of the Marcellus" benefit to better understand the potentially deleterious effects of fracking and what first-timers might be able to expect from what sounds like an incredible night of food tasting from some of the City's finest kitchen generals.  For more information on fracking, the Marcellus region, and on how you can help, make sure to check out chefsformarcellus.org.  And as a LocalBozo.com reader, we're proud to offer you specially discounted tickets to one of New York City's most exciting food and drink events of the entire summer.  Grab your tickets at tasteofthemarcellus.eventbrite.com and use offer code FNF3 to redeem your substantial discount.  Tell 'em LocalBozo sent you!
LocalBozo.com: The pervasiveness of fracking is an issue that most New York City residents are likely unfamiliar with.  What are the immediate dangers of fracking and why is the Marcellus region at greater risk?
Hilary Baum: The immediate dangers of fracking are that it provides an unacceptable risk of irreversible pollution of the water, air, land, people, and animals. The Marcellus shale region is at particular risk because it is made up of the very geologic character that contains natural gas, a mile or two below the surface. The region straddles much of the New York- Pennsylvania border and parts of Ohio and West Virginia.  Much of what is known about the dangers of fracking is based on experiences in these and other states throughout the country.  
LocalBozo.com:  How does the process of fracking affect the day to day lives of New York residents?
HB:  Fracking is an industrial process that will impact water sources, land, and air. If we don't keep it out of New York it will affect the health of residents upstate and down, the state's lucrative agriculture, restaurant, food production, and tourism businesses, and will reverberate throughout the local food movement.
LocalBozo.com:  Some of Manhattan's finest restaurants have signed on to participate in Taste of the Marcellus- from the Fatty Crew to Gramercy Tavern, Back Forty, The Meatball Shop, and more. How were these restaurants selected for the event?
HB:  Will Blunt of Starchefs.com brought the idea of a major fundraising event to me and Chef Heather Carlucci (PRINT), a co founder of our campaign. Together, we developed the event as an opportunity to work with some of our campaign chefs and to reach out to involve others, some of whom were new to the issue.
LocalBozo.com:  What can first time attendees expect from the Taste event?
HB:  This event is going to take place throughout the lovely Brooklyn Winery and will consist of ten stations with chefs serving locally sourced food, paired with unlimited pours of Brooklyn Winery's NY wines, Ommegang beers, and Tuthilltown cocktails.
LocalBozo.com:  How did Brooklyn Winery get involved as the host site for this year's event?
HB:  Will suggested Brooklyn Winery, and when we learned that the Winery sources so much of their grapes from the threatened Finger Lakes region, we knew it was a perfect fit.
LocalBozo.com:  How many attendees are you expecting?
HB:  We expect to fill the Winery to its capacity, close to 300 people.
LocalBozo.com:  Anything else you'd like to leave for the readers of LocalBozo.com?
HB:  We all have to understand that the health and beauty of our local food, wines, beers, and unfiltered water is at risk and must be protected by all of us.
- Jane Van Arsdale
Related Articles
Share
About Author
(0) Readers Comments