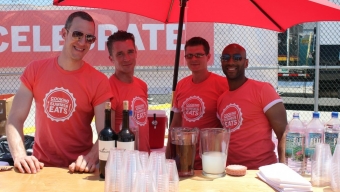 Blog: Cooking Channel Summer Eats at Smorgasburg
A second birthday is a celebration of growth and change. But in the case of the ever popular Cooking Channel, it is a time to pack up the truck with some amazing talent and great eats for a good old fashioned road trip. The "Cooking Channel's Summer Eats" is a five city tour featuring pop-up parties pairing the channel's talent and innovative attitude with each city's premiere food attractions. Cooking Channel's crack team made a wise choice by making their New York City stop special based on location alone. They dropped this outstanding pop-up celebration at Smorgasburg, the popular weekly food destination on the Williamsburg waterfront. The LocalBozo crew headed to this traveling circus of food and cooking personalities on Saturday, and we are still out of breath from all the food and fun.
The "Summer Eats" pop-up was brilliantly set up on the far corner of the Smorgasburg market. Large tents were erected to keep out the harsh summer heat while making sure that the fun and great tunes, remained inside the tents' confines. Upon entry, guests were greeted by the Cooking Channel team and provided with a rundown of the day's events. We were then invited to grab drinks from the well manned bar. With Brooklyn Brewery Pilsner in hand, our team grabbed seats at the large beer garden style tables to soak in the surroundings and chat with other food and spirits lovers. Energetic servers came to each table with a cornucopia of Cooking Channel selected eats, along with one of the most popular local food trucks that everyone seems to clamor for. The "Channel's" tasty selections were all summery and savory. First up was a 'Pulled Pork Sandwich." The cider-braised shoulder on a soft bun topped with coleslaw and vinegar sauce packed a huge tangy punch reminiscent of Carolina style 'cue. It paired great with the Brooklyn beers- both the Summer Ale on draught and the aforementioned Pilsner in bottles. Grilled Squash Quesadillas and Buffalo Wings provided even more delicious grab and go flavors to enjoy on a picture perfect summer day. If you haven't guessed by now the local flavor was an overstuffed, extremely generous 'Lobster Roll' provided by "Red Hook Lobster Pound." Not only was the roll downright decadent but it should be no surprise that it was the most popular dish of the day.
While imbibing and eating we turned our attention to the large HD screens, which played several previews of Cooking Channel shows, many of which are premiering soon. In fact, two of the Channel's headlining talents headed to the Brooklyn event to meet and greet with the crowd and get in on the party. The LocalBozo crew was fortunate to chat with the highly talented Baron Ambrosia host of "The Culinary Adventures of Baron Ambroisa" and "Eden Eats" host Eden Grinshpan about their go-to and favorite summer eats and drinks to get through a hot day in a pleasurable way. Dressed in seersucker, the highly original and unique Ambrosia chatted with us about his love for spicy meets cold food and spirit selections. The towering culinary personality loves to challenge his palate even on the season's hottest days with an Ethiopian favorite dish that combines raw steak with a truck load of chili peppers. It is that culture's version of our steak tartare. He washes this all down with a large glass of spicy beer loaded with various hot sauces. Baron is clearly one brave dude.
We then caught up with the highly affable, Eden Grinsphan, who was all smiles throughout the day making time to chat with any approaching fan. Grinsphan chatted with us about her love for tasty summer fare like fish tacos. With a fish taco in one hand you can often find the other holding a Mint Lemonade. Mint is one of Grinsphan's favorite ingredients because of its unparalleled way of kicking up flavor. When it comes to spirits she also enjoys Negra Modelo beer, which pairs perfectly with the fish tacos. Be sure to check both of these highly talented personalities only on The Cooking Channel all summer long.
Saturday's intense heat did nothing to stop droves of hungry eaters from celebrating all day long. Maybe it was the Lobster Rolls or the nearly endless supply of cold brews and wines. Either way "The Cooking Channel' did many things right to toast two years on the air, while treating the New York City food crowd to a smart, fun, and innovative way to ring in the summer.
- Jay Rubin
Related Articles
Share
About Author
(0) Readers Comments