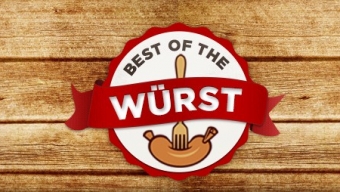 Saturday, August 4th will be a day dedicated to hoisting up glasses of brew while devouring savory sausages. It's an afternoon dubbed the "Best of the Wurst", a one-day event from the "pop up" masters at the Openhouse Gallery. Linked meat and "wurst" newbies are in for some serious eats as soon as they walk through the gallery doors. If you thought the only type of sausages available were served as a breakfast side or as a ballpark hot dog, prepare to have your eyes opened and mouth drenched in anticipation. The pop up runs from noon to 8pm, divided into one-hour sessions featuring the likes of currywurst, knockwurst, kasekrainer, and merguez just to name a few. It will literally be a United Nations of the world's best of the wurst! And since one good turn deserves another, the great people at Radeberger Pilsner will be on hand all day long providing their signature German born brew, which pairs brilliantly with anything- especially linked meats.
Your friends here at LocalBozo.com are passionate about wursts and brews of all varieties. You can count on us being front and center at Openhouse Gallery on August 4th providing you with some delicious pictures and coverage. But don't just take our word for it- head over to the site now and secure some tickets for yourself. Our team was lucky to sit down with Greg Spielberg, from Openhouse Gallery and event coordinator of the "Best of the Wurst" to uncover some answers about this exciting international food and brew event. Spielberg provided us with a tasty preview of many of the big name NYC wurst purveyors who will be doling out their savory dishes all day long. If you want to be a part of this one day pop-up event, be sure to read below for information on how to purchase tickets or win a pair through their Facebook contest. Either way you make it there, be prepared to stick a fork in a wurst and raise it high, before it goes directly into your mouth.
LocalBozo.com: How did the idea for the "Best of the Wurst" event come to be?
Greg Spielberg: "Wurst," is another in our series of pop-ups featuring the best comfort foods in the city. We only do foods we love and that we feel are underrepresented in the limelight. There are so many ways to do wurst (which literally means rolled meat) and curating chefs like Kurt Gutenbrunner and butchers like Schaller & Weber really showcase how amazing wursts can be.
LocalBozo.com:  Openhouse is now synonymous with the word "pop-up" in keeping with your ever changing space and innovative event planning. What can guests expect to see with the "Best of the Wurst" layout and flow?
GS:  Best of the Wurst will be at 379 Broome. It's a more intimate space with a backyard but the same white-on-white-on-white design as 201 Mulberry. Guests will see the familiar Fatboy lounge furniture, colorful banners and recipe boards, as well as a unique voting method where guests vote with stickers this time instead of ping pong balls. Each vendor will be grilling up and delivering the brats and sides inside fresh off the grill.
LocalBozo.com: What sparked the partnership with Radeberger Pilsner for this particular event, with so many other German beers on the market?
GS:  I've always been a huge fan of German and central European beers. A pilsner is nicely balanced in the middle of the beer spectrum and won't overwhelm the creative, diverse wursts and sides. A lager is too heavy and an ale or wheat beer is too light. Also, they're tallboys so a bigger drink!
LocalBozo.com:  What Wurst styles and side pairings can event goers look forward to eating?
GS:  Blaue Gans: Kasekrainer with white cabbage salad
Der Kommissar: Spicy east-meets-west Pakwurst, a house specialty with Nepalese inspiration. Served with homemade sauerkraut, pickles, peppers and der kommisauce, their answer to currywurst sauce.
Esposito's: Thin-cased sausage stuffed with pork, freshly chopped parsley and hunks of aged sharp provolone cheese. For their side they're serving up skewered cherry tomato, mozzarella (local Bocconcini) and basil with a drizzle of evoo.
Katz's: Juicy, garlicky all-beef knoblewurst served on rye bread with sauerkraut and spicy deli mustard.
Pete Zaaz: Chorizo topped with salsa verde. Side of tomato, pickled watermelon and mussels.
Schaller & Weber: Nurnberger sausage with sauerkraut, Dusseldorf-style mustard and German potato salad.
LocalBozo.com:   Will there be on-site demos for the making of different types of "Wurst" sausages?
GS:  Guests can definitely peek out to see how they're doing it and have a chance to chat with all the chefs and butchers.
LocalBozo.com: What is being done to manage the flow of a crowd that is sure to be large for an event as encompassing as this?
GS:  Entry is hourly and typically very smooth since chefs are prepared for up to 70 people per hour coming in.
LocalBozo.com:   Besides the food and beers will their be any traditional German entertainment on hand? Can we expect some Ompah?
GS:  Ompah for sure as well as Austrian, Italian and Jewish tunes to reflect the diversity of wurst chefs in New York City's history.
LocalBozo.com: Any surprises in store for attendees?
GS:The most memorable food pop-up they've been to, an exploration of New York City restaurants in one location on one day. The beauty of the wurst.
LocalBozo.com:What is the easiest way to get tickets?
GS: Tickets can be purchased through our "Time Out NY" link, and we are also running a free Facebook contest!
- Jay Rubin
Related Articles
Share
About Author
(0) Readers Comments