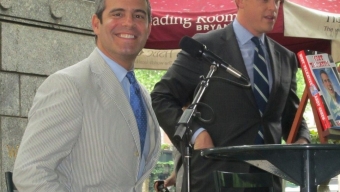 Blog: Andy Cohen Word for Word Author at Bryant Park Reading Room
These days the Bravo Network's Andy Cohen is a very busy man. He's the Executive Vice President of Development always on the look out for that next hit to captivate the network's already vast audience. Outside of the boardroom, Cohen has become the face of Bravo, hosting the ever popular, 'Watch What Happens Live,' and appearing as a pundit on several high profile shows. Yet the hard working exec isn't stopping there. You may now add top selling author to his already impressive resume. His memoir, "Most Talkative: Stories from the Front Lines of Pop Culture" is a funny, and touching story of how Cohen the man came to be. On Wednesday afternoon LocalBozo.com headed to NYC's Bryant Park Reading Room to see Andy Cohen live in conversation with MSNBC's own Willie Geist. The event was a hilarious and heartwarming edition to their popular 'Word for Word' author series.
The weather may have been threatening, but that didn't stop the throngs of excited men and woman who wanted to spend the afternoon with the affable Cohen. At half past noon, Cohen and Geist arrived with their energy turned up and ready to have a lively chat. And after well received praise from the crowd, both men got right into the book to start hashing out stories from Cohen's past. The first story told the tale of Cohen meeting Soap Opera star Susan Lucci (one of his idols) for a lunch in the City, under the guise of an interview for the Boston University newspaper. Cohen was actually using the piece for a writing class, but used his charismatic and friendly personality to make the meeting happen.
Many of the afternoon's best moments involved Cohen and Geist just riffing with each other. Both men are naturally funny, and gave the packed crowd the giggles with stories ranging from Geist's appearances on, "Watch What Happens Live," Cohen's love for the 1990s, and even some tidbits about Oprah Winfrey! But paired with all of the funny moments, the crowd was able to hear a truly touching story of Andy Cohen's journey to come out as gay man to his best friend. Cohen presented this to the audience by pulling excerpts from the book, paired with speaking to us directly. It is a remarkable and brave story, and shows you how strong Cohen really is.
The 'Word for Word' series continues to be a fantastic way to connect some of the country's greatest writers to their audience at a highly unique venue. Sure, the weather was not in our favor but it didn't matter once we lent our ears and eyes to Andy Cohen. Be sure to pick up a copy of "Most Talkative: Stories from the Front Lines of Pop Culture" for an inspiring look at how one of media's most important figures, became the man he is today.
- Jay Rubin
Related Articles
Share
About Author
(0) Readers Comments