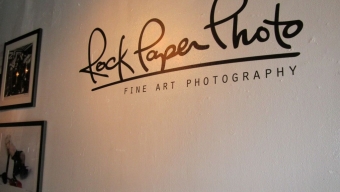 Blog: Rock Paper Photo Presents The Decade That Rocked The Ages at Gallery Bar
"New York City, are you ready to rock?" screams the long haired, leather bound front man from center stage. It's a phrase you have heard hundreds of times, and chances are it pumped you up to raise your hands and shout out loud. It was rock n' roll in the 1980s- a time of big hair and unbridled decadence. But it also produced some of the most beloved rock anthems of all time. As time goes on we tend to get nostalgic for these days gone by. Fortunately we have fantastic achieves to keep these memories alive.
Photographer Mark Weiss is one such timekeeper of the '80s rock legacy. Starting at the age of 19 he captured rockers in their raw element and soon gained critical acclaim by being published worldwide in major rock magazines. Today, Weiss's landmark catalog of work is now available on Rock Paper Photo – the ultimate online gallery featuring hand-signed limited edition photographs. And for a limited time you can head to the Lower East Side's Gallery Bar and see these outstanding photographic time capsules yourself.
The LocalBozo.com team headed downtown to Gallery Bar to check out this outstanding work, which is a far cry from a bunch of guys in a band standing around posing. Weiss's work dubbed, 'The Decade That Rocked The Ages' presented by Rock Paper Photo and curated by Phil Collen of Def Leppard, is a collection that tells the story of rock's triumphs, excesses, and power to mold minds during a now highly romanticized decade. The exhibition features a who's who of rock giants of the time- including Ozzy Osbourne, Motley Crue, Guns N' Roses, Twisted Sister, Bon Jovi, and even Warrant. Each photo captures the essence of each band while also providing a glimpse into some things they might be noticing for the very first time. The sheer quality of each photo stopped me in my tracks on several occasions, causing me to stare at one particular piece for minutes on end.
Mark Weiss's pieces show that the decade had much more depth than the simple misconceptions about sex and drugs ruling the day. In 1985, Twisted Sister lead singer Dee Snider headed to Capital Hill for the historic Congressional hearing on charges that rock music was contributing to the corruption of America's youth. At the time, the group making these charges was the PMRC (Parents Music Resoure Center). Stepping up as rock music's spokesman, Snider took to the floor to speak candidly about how this group was working to censor rock music and criminalize its creators. Weiss was front and center in capturing these hearings where rock n' roll stood up for itself against these outlandish claims- a historic time in the annals of music history.
'The Decade That Rocked The Ages' tells the story of 1980′s rock, period. Do yourself a favor and make your way to Gallery Bar (until June 20th) or Rock Paper Photo to view these amazing pieces for yourself. And then if you fall in love with one of the photos, make sure to take one home. It's been said that there's nothing like a shirtless Jani Lane from Warrant or Nikki Sixx from Motley Crue to truly tie any room together.
- Jay Rubin
Related Articles
Share
About Author
(0) Readers Comments