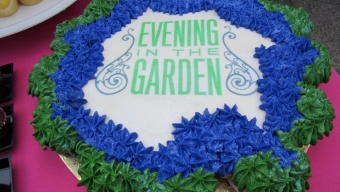 Blog: Greensward Circle of the Central Park Conservancy presents Evening in the Garden
On Wednesday, the first day of summer came in like a lion. A serious heat wave hit the entire city, keeping many of us indoors with the A/C cranked all the way up. Luckily this extreme weather shift did nothing to stop the good people at 'The Greensward Circle of the Central Park Conservancy' from bringing their annual summer kick-off party to the gorgeous Conservatory space with an event aptly named, 'Evening in the Garden.' It was an evening filled with summery south of the border themed drinks, tasty bites, and great music- all while drinking in the sights of this magical space located right in New York City.
In the early evening hours, Greensward Circle members and guests strolled into the sprawling outdoor space to the soothing sounds of a live street band and a large spouting fountain located in the center of all the action. It may have been hot out, but that didn't prevent guests from arriving dressed to the nines, ready for a night of celebrating the coming season. Perennial Manhattan favorite Rosa Mexicano provided cocktails and choice eats for the festivities, equipped with two large bars serving up innovative Mexican themed cocktails, perfect for the summer months. 'Watermelon Margaritas' made with El Jimador Tequila was the popular drink of the evening as fresh watermelon juice was expertly shaken with the high quality tequila to produce a thirst quenching, yet delightfully strong cocktail to easily keep one's mind off the heat. And speaking of watermelon, a cold watermelon gazpacho was served in shot glasses which were downright delicious.
Along with these cool cocktails, Rosa Mexicano came with heaping bowls of their famous Guacamole. Each guacamole station was made onsite by one of the restaurant's table side chefs. Every fresh ingredient was mixed and served to the hungry onlookers, which made for many repeat visits from all guests and yours truly. A variety of meat and vegetable based quesadillas were also on hand to provide that perfect balance of spirits and food for all in attendance. It was truly magical to walk the pristine, manicured grounds that make the Conservatory a place that allows you to take a deep breath and count your stars that you are a New Yorker.
'Evening in the Garden' was an expertly run event on all fronts. The young professionals at the Greensward Circle are selflessly banding together in order to secure the future of Central Park for generations to come. LocalBozo.com applauds their fine work. And if Wednesday's event is indicative of the way they operate, then all New Yorkers are in good hands and so is the famous park we all adore as our respite and as our cultural mecca.
- Jay Rubin
Related Articles
Share
About Author
(0) Readers Comments