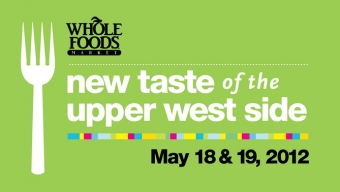 There exists one New York City neighborhood whose rich history is rivaled by its modern innovations and positive change, which have led to its status as perhaps the most sought after living space in Manhattan. We're of course referring to the Upper West Side, a legendary hood that exudes a style and sensibility that both locals and those in other areas romanticize about. Be it a trip to Zabar's paired with a picnic in Central Park or taking in a Opera at Lincoln Center, this virtually untouched section of town allows us all to sample a taste of luxury paired with the notion of how great our city can be.
One annual festival now in it's fifth year is doing their part to place a huge magnifying glass on this much celebrated part of town in a grand fashion, and paying tribute to some of the better known and even some of the lesser known restaurants that encompass the area. It's the "New Taste of the Upper West Side," three nights of eating and drinking the very "Best of the West." Dozens of the neighborhood's best restaurants and some of the country's most well known food personalities will come together to maximize all the neighborhood love you can place under one tent. From a Friday night event titled, 'Comfort Classics' which spotlights all that is good and pure with hearty, comfort foods all the way to 'Vegetables at Dovetail,' a five course love leter to vegetarian dining, this festival literally has something for every palette.
Not only will your friends at LocalBozo.com be attending, providing you with the thorough reporting and pictures you have come to know but we've also got a full preview to help entice you to grab some of the last remaining tickets and experience it for yourself. The LocalBozo.com team was fortunate to sit down with Don Evans, "New Taste of the Upper West Side" Event Chair and BID board member for an exclusive interview preview of this unique festival. During our lively conversation, Mr. Evans made it abundantly clear that ticket holders will be bombarded by a who's who roster of culinary personalities including Travel Channel favorites Adam Richman and Andrew Zimmern, with plenty of other surprises to follow. But above all, this will be a week for guests to explore the innovative restaurants and minds behind them who are doing so much to make the Upper West Side such a great place to visit.
LocalBozo.com: 2012's New Taste of the Upper West Side takes place on the 16th, 18th, and 19th of May. Can you talk a little bit about how you got started as the event chair and why the Upper West Side?
Don Evans: Well I'm involved with some restaurants of the Upper West Side and around five years ago a bunch of new restaurants were opening up primarily- Dovetail, Shake Shack and some others- and I really didn't know what I was getting myself into. I thought it would be a good way to focus some attention on the west side restaurants. For many years, they didn't have a very good reputation, but I knew of the course of the years prior that they had improved dramatically, so with the help of a friend, we raised some seed money and we had our first event and we had about 28 restaurants and it worked out very well. We had about 750 people under a tent at 77th and Columbus. The interesting thing is that the most enthusiastic people regarding the event were the better known restaurant owners- of Daniel, Jean Georges, Steve Hanson, and Danny Meyer, from Shake Shack- and we continued to help the event evolve. In our fifth year we actually have 3 events- the first event actually happens on Wednesday, May 16th called Vegetables at Dovetail. We have 5 chefs doing a 5 course vegetarian tasting menu. And now we have the Friday and Saturday evening events, which are very close to being sold out right now, around 1600 people each night. We'll have 80 restaurants and it's sort of a who's who of every major restaurant on the west side.
LocalBozo.com: As the event chair, what's been the biggest challenge for you in pulling off the now annual event for this year?
DE: I think I'm a little more knowledgeable now. There's a lot of moving parts with more than 80 restaurants and each one has its specific needs. We spend a little more money than we have to because this is a very well produced event. Friday night we have Comfort Classics and its being hosted by an all-star cast this year with Adam Richman from Man vs. Food and Andrew Zimmern from Bizarre Foods. And the two of them could be doing any major food event in the United States. Putting them together with Ellie Krieger, who we just announced from the Food Network, as the third host. and Saturday evening, we're honoring Gael Greene who's a west-sider who started City Meals on Wheels a number of years ago. We also have an orchestra, so it's a very well choreographed and programmed event, not your typical food and wine event that one might go to. Particularly the better chefs involved here get invited to a lot of different events throughout the United States and they uniformly say that they can't believe the level of production of our event and we have a high retention of people who attend and look forward to the event each year because of that. We also have more than 30 corporate sponsors- financial supporters of the event. Ford Motor Company and Whole Foods for example- if you ask why are these corporate sponsors getting involved in a neighborhood event like this- it's really demographics. These sponsors are trying to get their names before the area's citizens.
LocalBozo.com:What determines which restaurants can participate in the annual event?
DE: A lot has to go by the Zagat rating of the restaurant honestly. Saturday night's event is more fine dining, while Friday night is more casual. We have 8 or 9 restaurants participating for the first time on Friday and we have 3 on Saturday that won't even be opening until the fall. And these are significant restaurants that you'll be reading about in the fall previews and they're excited to get their name out there.
LocalBozo.com: With the success of the festival, starting from one night and now expanding to three nights, is there a chance in the future we might see a week long festival?
DE: We've toyed around with a lot of ideas. John Fraser of DoveTail does a vegetarian night on Monday night and he suggested we try to do a Vegetarian tasting menu and he got us Missy Robbins from A Voce and Christina Tossi from Momofuku Milk Bar whose opened up a shop at 86th and Columbus. And she just won the James Beard Rising Star award- the number one rising star in the United States. So we'll be trying that out this year for the first time. It's really good for the restaurants, which you'll see and hear about over the next 5 days and we've had some conversations and I think we'd all like to expand the festival.
LocalBozo.com: For festival-goers that haven't been to A New Taste of the Upper West Side in previous years, how would you pitch this to them? For people going for the first time, what can they expect?
DE: They will be surprised. We have surprises on both nights and without going too much into it, we have seating areas for 400 people. It's a grand tent and it's very well designed. We spent a lot of time on the design and the production. Here, we want people to have fun and they're really going to be in a celebratory mood. I think 80% are likely to be local residents, but they come to really enjoy the restaurants. Many are familiar with the restaurants but many of them also are not. In fact, each of the owners of these restaurants that I speak to, they'll give me a different reason for why they like the event. But collectively they all believe that it's a useful event at least one time a year that the restaurants come together, focus attention, and market themselves as a unit. There are many instances where people come up to me and say "I've never tried this restaurant before, but I met the chef, and I really enjoyed his tasting and I'm going to go there." And they do go there, by the hundreds, so that's why the owners and the chefs like it.
LocalBozo.com: We go to food events quite often and many times, we'll discover a restaurant and then make sure to visit, so we understand where you're coming from. Is there anything else you'd like to leave for the readers of LocalBozo.com?
DE: There's still some tickets available for Friday and Saturday night- they can go to newtasteuws.com to pick up some tickets. And I'd love to see them go and we'd love to see you there.
- The LocalBozo.com Team
Related Articles
Share
About Author
(1) Reader Comment