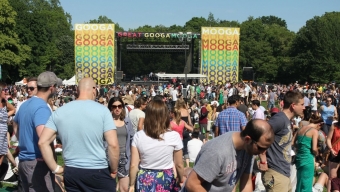 Blog: The Great GoogaMooga- Sights and Smells
Anticipation had been running rampant for the past few weeks for the Brooklyn event that everyone seems excited to pronounce, but whose meaning nobody truly knows. Touted as a grandiose festival celebrating New York City's finest restaurants, musicians, and scenery, this past weekend marked the first ever festival known simply as "The Great GoogaMooga." For two full days, Brooklyn's historic Prospect Park would hold an event packed to the gills with live music, informative and interactive panels, and tons of delicious local food. Best of all, as long as you could score a ticket, entry was free. Like any inaugural event there were some bumps along the way that even a beautiful weekend couldn't salvage but nevertheless, the LocalBozo.com crew ventured to 'Googa' for both sun filled days. Allow us to be your eyes and ears as we take you back to the weekend that was.
Our crew descended on the venue during the early afternoon hours on Saturday, and to our surprise the place was already packed and was a truly fantastic sight. Once we were able to find an entry point. Unfortunately directional signs were at a minimum, but after asking around a bit, we found our chosen path. A once open field had been literally transformed into carnival of consumption. Food vending booths were set up like classic 'try your luck' boardwalk games. But instead of winning pink elephants or some lame Bart Simpson poster, patrons waited on lines for edibles from the likes of The Spotted Pig, Dinosaur BBQ, M. Wells, and Seersucker just to name a few. The expressions on the faces of eventgoers when they finally got said food was priceless. We talked to one girl who waited on a long line for the ever popular Blue Ribbon, 'Fried Chicken.' And after the first bite a smile washed over her face, letting us know it was well worth the wait.
Unfortunately though, waiting was the word of the day. With the event being free, lines ranged from the annoying to the outrageous, with many exceeding an hour. It's a certainty that promoters will need to re-configure the setup for next year's 'GoogaMooga' or risk potential riots from frustrated locals. Once inside, ID checkpoint lines were massive. Once given a wristband for beer, the singular beer and beverage lines were massive. Unless of course you opted for the beer tents, which did not accept any cash- only red 'Googa Moula' tickets, which could be obtained (you guessed it) after waiting on another massive line. And that's before being able to scarf down any food, which sported lines perhaps even longer. The waiting proved to be perilous for an otherwise beautiful Saturday afternoon even more so because you wound up spending your money on less desirable foods with shorter lines, rather than being able to fully experience the festival's most desired offerings.
If you managed to outlast the lengthy waits, rewards were fruitful. Some of the tastes that we got our hands on were fantastic- Joseph Leonard's "Fried Chicken Banh Mi" sandwich was sweet and savory at once, with pickled vegetables topping a crispy, salty chicken breast. Porchetta's outstanding "Porchetta Sandwich" wrapped a fresh sourdough bun around a hearty cut of Italian roast pork, needing nothing but the delicious flavors of the meat and cracklings to flavor the mouthwatering albeit diminutive sandwich. We also snagged some of the tasty "Sloppy Joes" from Dickson's Farmstand Meats and some flavorful "Duck Dogs" courtesy of Tom Colicchio's Craft, as lines had settled down some.
Needing to stay hydrated, we naturally sought out some reasonable beer lines. Systematically we alternated scooping up two beers at a clip while other members of our party raced to the back of the growing line. The $7 Blue Moons went down incredibly smooth underneath the sun, allowing a day in May to replicate a summery August weekend. Once we managed to procure some tickets, the 'Beer Tasting Pavilion' located in the dead center of the festival was not only an innovative way to serve the sudsy stuff from tens of microbreweries, but also a welcome respite from the unseasonable heat. The brew was served two ways, either as a tasting or a full pour for different ticket denominations. As a way to get the most out of the pavilion's lineup we opted for tastings from breweries like Sly Fox and their 'Saison Vos' and South Hampton Publick House's 'Bier de Mars.' Both selections were on the lighter side and were equally ideal to sip in the sun.
Blog: The Great GoogaMooga- Hot Sauce Takedown
GoogaMooga worked hard to be a jack of all trades event by offering several demonstrations and seminars throughout the weekend for general admission attendees. (The Extra Mooga event, as you may have heard was $250 each and included a plethora of extra events and tastings) Brooklyn's own, Matt Timms brought his ever popular 'Takedown' event to Googa's Restaurant 101 tent for a hot sauce competition like none other. As covered repeatedly on LocalBozo, Timms is known for traveling the country providing home cooks a place to show off what they can do while being judged by an audience and seasoned pros. With a roster of sauces that ranged from the mild to the insane, event goers were treated to a taste bud explosion. One sauce in particular included the infamous Bhut Jolokia chili pepper or the 'Ghost Chili'- known throughout the land as the hottest pepper on the planet. The competition was as fiery as the sun on Saturday as Timms' signature culinary ringmaster bark cheered on the teams while entertaining tasters. Everyone under the tent was in good spirits, even if your tongue was on fire.
As promised, live music played a huge role in the weekend's celebratory feel. Two stages were literally packed with talent, at any given time of day. On Saturday afternoon, with beers in hand we ventured over to the 'Hamageddon' stage to catch a glimpse of 'Unchained: The Mighty Tribute To Van Halen.' These aged veterans were an extremely tight, masterful playing band performing pitch perfect renditions of Van Halen's entire catalog. Lead singer, Ricky M'Coy embodied the passion and pipes of David Lee Roth in every way- so much so in fact that you could close your eyes and never tell the difference.
Blog: The Great GoogaMooga- The Roots
After getting pumped up with some great '80s rock and another round of craft beer, we made our way over to the main stage to catch later in the afternoon to catch Philadelphia legends and 'Late Night With Jimmy Fallon' house band, 'The Roots.' The audience was filled to capacity with those wanting to catch the multi-talented musicians in action. Singer Black Thought and drummer ?uestlove led the crowd through a nearly two hour jam session spanning the band's catalog, along with a ton of surprises thrown in. Fans and new converts alike bobbed heads to tracks from 'Things Fall Apart' to 2011′s, 'Undun.' At one point the stage was packed with friends and family of the band to help hype the crowd. One such hype man was Late Night With Jimmy Fallon's own Seth Herzog who appeared to be having the time of his life pumping up the crowd and singing along to nearly every song.
Returning on Sunday, some of the same problems remained, although the event certainly felt less crowded. It's been reported elsewhere that the organizers listened to the issues that had been voiced on Saturday and did their best to work around them, which is certainly worth noting. Many of the same waits persisted, but it failed to mar the event's second day as it had on the first. While frustrations can mount, it's easy to forget that the incredibly well attended inaugural event was 100% free to attend, and with such a massive crowd and food prepared to order, patience is paramount to finding some enjoyment in the festival. That said, we are New Yorkers. Patience is for the suburbs. The first ever Great GoogaMooga certainly had glitches in its first go round, but we've got faith in the promoters behind Bonnaroo that they'll get everything figured out in 2013. Despite some growing pains this past weekend, we'll be first on line to grab tickets next year.
- Jane Van Arsdale and Jay Rubin
Related Articles
Share
About Author
(0) Readers Comments