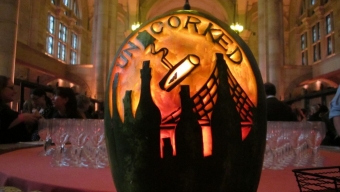 Wednesday night in downtown Brooklyn the sound of hundreds of wine bottles being popped could literally be heard from miles away. No, it wasn't a famous local rapper christening the nearby sports complex. It was a popular magazine's night to shine as it showed off wine makers and food artisans from all around the New York area with Edible Manhattan's '2012 Brooklyn Uncorked.' If you were there last night, I am pretty sure you're not reading this review first thing in the morning. But for those of you unable to attend, LocalBozo.com was at the Skylight One Hanson building from the first pour to the last bite.
A sprawling, three hour wine and food centric event such as this requires both patience and a willingness to try everything at least once. And with a roster of over sixty-five vendors we had our work cut out for us. The first and most important step was to grab a tasting glass at the front of the house and make our way over to the vineyard of our choosing. We spotted a small yet manageable line formed around 'Macari Vineyards' and knew that would be the first stop. Since we were in the mood to begin the evening with a red, the friendly and knowledgeable representative poured us a tasting of their 'Sette NV,' a  blend of 50% Merlot & 50% Cabernet Franc. This particular red produced a fruity nose, which was noticeable again while sipping with a slightly dry, yet refreshing finish.
And with glass in hand, we traversed the crowd of happy revelers to our first exciting food tastings of the evening. Park Slope's 'Palo Santo,' and chef/owner Chef Jacques Gautier represented with an adventurous eat. Their 'Rabbit Anti Cucho' consisted of freshly grilled rabbit meat skewered alongside of some meat hearts, kidney, and liver all topped with a tangy white sauce. To say there was a lot going on with this dish would be a serious understatement. As a fan of foods often labeled as 'bizarre,' I was instantly attracted to the pairing of the savory rabbit with the irony liver and hearts. And with that treat fresh on our palettes it was time to sample yet another delicious, local wine.
Planted smack in the middle of all the action sat the North Fork of Long Island's, Lieb Family Cellars. Their crack staff was up for this challenge, efficiently pouring to match the guests desired tastes. And as the novices that we are when it comes to wines, we decided on a pour that appeared to bring smiles to several people's faces- 'Lieb's' 2007 Cabernet Franc. This aged wine embodied two of our favorite qualities, being both dry and easily drinkable during the warmer months. It was bold and refreshing at once, receiving repeat tastings by myself and everyone around me.
If we mentioned all of the food tastings that we adored, it would take up the entire morning, which goes to show you how vast and delicious 'Uncorked' was. But here are some highly honorable mentions that we enjoyed on Wednesday night. First, 'Gramercy Tavern' created a finger food like none other- a housemade chicken mortadella served on thyme crackers with caramelized onions and candied pistachios. The salty mortadella paired with the sweet onions and nuts worked quite well between sips of whatever wine we were consuming at the time. And in keeping with our love of all things meat, we headed to the table represented by Tribeca's 'Blaue Gans.' The downtown Manhattan eatery came with guns blazing serving pork belly with white cabbage salad and spring carrots. The pork belly was cooked to perfection, allowing just enough fat to satisfy this carnivore.
Seemingly every single month, the great people at Edible Manhattan and their sister magazine Edible Brooklyn seriously know how to 'bring it' when it comes to food and drink centric festivals. Throughout the three hour event the sold out crowd cheered, ate, and made friends out of strangers all because of our collective love for all things 'Uncorked.' 
- Jay Rubin
Related Articles
Share
About Author
(0) Readers Comments