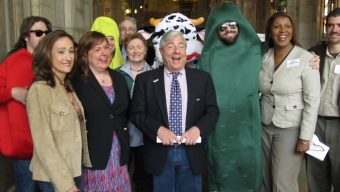 Blog: EscapeMaker.com Local Food & Travel Expo
Listen up. We all want to have a great time and travel to cool places, but it's of the utmost importance to consider one's surroundings while doing so. For the second year in a row, EscapeMaker.com is showing New Yorkers how to do both while getting so much in return. It's the second annual, 'EscapeMaker.com's Local Food & Travel Expo' at the historic Skylight One Hanson building. This sophomore event would feature new travel destinations, delicious food samples and plenty of ways to live the 'green' way.
But before we would make our way through the vast array of booths, a special presentation would kick off the event in a grand fashion. EscapeMaker.com founder Caylin Sanders took to the microphone on the mezzanine of Skylight One Hanson overlooking the event that was about to take place. There, she thanked a packed crowd of supporters as well as local politicians for making this second outing possible. Ms. Sanders then introduced Brooklyn Borough President Marty Markowitz to make some comments about the days festivities. The always affable politician spoke highly of the event and the borough he loves and represents. During his rousing speech he praised all of the rooftop farms, 'sprouting' up Brooklyn-wide.
Once the various speeches had ended, a humorously fitting chili pepper ribbon was cut, and the event officially began. And what an event it was. If you wanted to learn anything about the best places to travel within the tri-state and beyond, this was the place to be. Whether it was a day trip to Montauk, or a weekend of wine tasting in Vermont, this event was used as a resource better than any travel agent could ever be. The reason for this was the face-to-face interaction between guests and representatives from said destination locals.
And speaking of wine, no stone was left unturned when it came to representing the best grape nectar from highly sought after regions. Be it from the Finger Lakes or the South Folk of Long Island all wineries got and gave a lot of love all day long. Throughout the event we sampled fine wines that we hope make their way to our dinner table shortly, but two distinctly different brands were our hands down favorites. 'Happy Bitch Wines'(you read that correct) poured a Rose meant to be enjoyed by woman- but this guy loved its light, refreshing flavor. Also worth mentionining, 'Red Newt Cellars' provided us with a tasting of their 2010 Cabernet Franc. It was also refreshing but extremely complex with notes of pepper.
Now if you want to talk about keeping it local, EscapeMaker went as far to create an entire "Made In Brooklyn" section situated in the building's former bank vault area where visitors could sample and purchase foods, crafts, and beverages from some of the borough's best small businesses. One of our first stops was to Fleisher's, one of the area's finest butcher shops. All of their meat products are grass-fed and organic. For sampling they laid out sweet lamb sausage, which was both notoriously flavorful and a healthy alternative to pork. To wash that salty goodness down, we grabbed a tasting glass of Empire Brewery of Brooklyn's, 'Amber Ale.' This summery yet complex ale pairs perfectly with most meats is also perfect on its own.
The second annual "EscapeMaker's.com Local Food & Travel Expo" surpassed last years event by leaps and bounds. Not only did it feature several more food venders who provided delicious samples, but it widened its reach of possible travel destinations. Sure you love living in the five boroughs of New York City. It's a amazing place. But beyond our borders exist a wealth of splendid locals that deserve our patronage. Needless to say, we can't wait till next year.
- Jay Rubin
Related Articles
Share
About Author
(0) Readers Comments