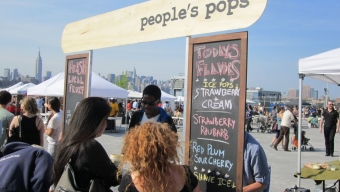 If it's Thursday, that can only mean one thing. It's time to start planning your weekend. And with Spring now in full swing, why not do something outdoorsy? No, I'm not talking about taking a nature hike or doing some exercise. For shame! I am referring to New York's newest pastime, the outdoor food market. And in Williamsburg, a Brooklyn neighborhood known for it's innovations one such market is entering it's second year, feeding hungry city dwellers some of the tastiest treats in all five boroughs. It's 'Smorgasburg,' an all out food bonanza taking over the Williamsburg Waterfront. LocalBozo hit up one of season's first weekends and what we have to report will easily transform you into Pavlov's salivating dog.  
Smorgasburg comes from the minds behind The Brooklyn Flea, the year round multi-venue market featuring a love for all things local. And if you've been to the flea then you know how much time you can spend walking up and down the aisles checking out each vendors wares. But with 'Smorgas,' you won't find antique ice cream machines. Instead, you'll encounter dozens of savory and sweet delights served up quickly and most importantly, fresh.
As loyal meat eaters we ventured over to 'The Meat Hook' as our first stop of the afternoon. This Billyburg favorite serves up some of the best cuts of beef and slow-cooked BBQ in the area. Their Metropolitan Avenue shop even has classes featuring trades like pickling!  The smoker they brought to Smorgasburg was nothing short of intimidating. The surface area on this thing was huge and could easily hold several racks of ribs. During our visit we picked up a few sausage links. Trust me when I say this, these are not your everyday pork side dish. These links were smoky yet sweet tubes of piggy goodness. Each bite of the natural casing snapped releasing salty juices which would stop any carnivore in their tracks.
Every time we visit 'Smorgasburg' we come upon a vendor we have never heard of before. And with that comes an exciting food adventure, which usually leads to a satisfying destination. And on this particular visit we ponied up to Brooklyn's own, 'Bon Chovie.' With a name that cool I seriously didn't care what they served, because they had already won in my eyes. This highly unique and rock n' roll styled food business has taken the much maligned anchovies and turned into into a serious snack. 'Bon' takes these tiny fish with big flavor, frying them to perfection and serving them with homemade pickled sweet peppers and smoked paprika mayo. If you have ever loved 'Chovies' on your pizza or even Caesar Salad then you will devour these, and come "back for more!" Sorry, had to throw in the Ratt reference.
Everyone thinks that once it gets warm, they have a ton of time to go out and explore the city. But in reality the warm months are few and far between. So why not grab the L to Bedford Avenue and share in the 'Smorgasburg' this weekend? This culinary flea market will happen every Saturday on the Williamsburg Waterfront between North 6th and North 7th St., at the East River, from 11am to 6pm during the season. Hey, you can even tell your Manhattan friends about it and bring them. They will think you're quite cool and in the know. Don't worry we won't tell.
- Jay Rubin
Related Articles
Share
About Author
(0) Readers Comments