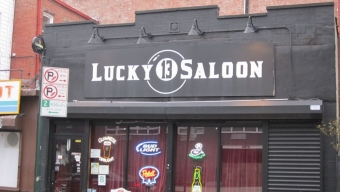 Blog: East Coast vs. West Coast Heavy Metal Brew Tour Part II at Lucky 13
The popularity of craft beer knows no bounds. Its flavor characteristics and innovative brewing process have evolved from somethine once considered 'simple' to intricacies unmatched by the likes of fine winemaking. With so many different methods and flavors, it's no surprise that we've stumbled upon a coastal battle which has been bubbling on the surface for some time. It exists in the rap world and in oysters and now, in craft beers and only a head to head taste test would determine a definitive winner. On Friday night, we headed to Brooklyn's home of all things hard rock and heavy metal- Lucky 13- for the East Coast vs. West Coast Heavy Metal Brew Tour.
Victory Brewing Company of Downingtown, PA and Smuttynose Brewing Company Portsmouth, NH represented the east coast while the wild west was repped by Ballast Point Brewing Company of San Diego, CA and Lagunitas Brewing Company of Petaluma, CA, respectively. These highly popular craft brands would make it tough to pick a winner. Luckily great beer prices, face melting metal spun by DJ Raphael Hunter Reyes, and some Go-Go dancers (more on that later) made the challenge of picking a winner not much easier, but a heck of a lot more fun.
The reps from each of these top notch craft breweries were in attendance to point drinkers in the right direction and give them some info on each brand. I decided to start on the west side with Lagunitas' 'A Little Sumpin' Sumpin' Ale.' Eager to try something new, this would be my first taste of the beer. The 'Sumpin' is an America Pale Wheat Ale. Upon the first taste I noticed its medium body with a delicious grapefruit hop flavor that stays strong well into the aftertaste. Very tasty stuff indeed. I then quickly made my way to the second west coast beer, 'Calico Copper Amber Ale' by Ballast Point. As a huge fan of caramel beers, I was instantly attracted to it, and it did not disappoint. Wow, West Coast- good form, sir, good form.
It was time to head back to my neck of the woods and meet up with an old friend, Smuttynose and their IPA. The IPA was being poured on draft and retained all that hoppy flavor I have come to love since picking it up for the first time in college. It is a solid pale ale with the perfect balance of hops, which appear to morph towards the finish with a subtle citrus flavor. Finally, the battle concluded symbolically with a trip into Pennsylvania for the Victory Prima Pils. This Downington favorite was the lightest beer sampled that night. Since it is a traditional German-style pilsner, it is lighter then most mass marketed styles but it retains a flavor that is unmatched.
Surprise surprise- each of the beers we sipped on were excellent. It just goes to show how advanced the craft beer movement has become. Lucky 13 was the perfect venue for an event of this caliber- marrying tasty suds while banging your head to a great mix of metal. And all the while, highly talented women performed go-go routines on the strategically placed pole on the bar. The East Coast vs. West Coast Heavy Metal Brew Tour rolls on (schedule below). Be sure to head out to all the great bar locations to judge for yourself. Don't forget to throw your horns up!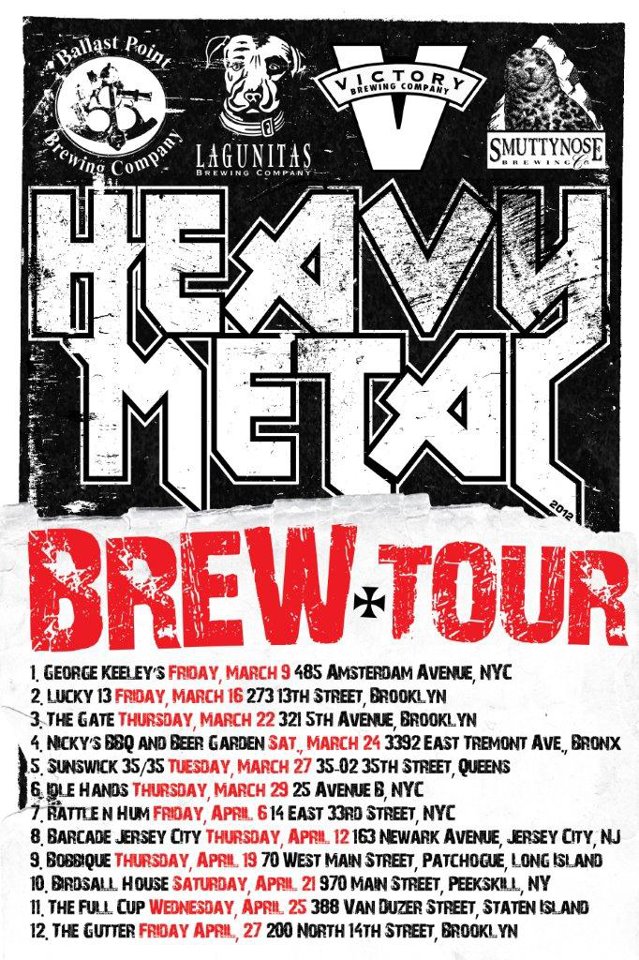 - Jay Rubin
Related Articles
Share
About Author
(0) Readers Comments