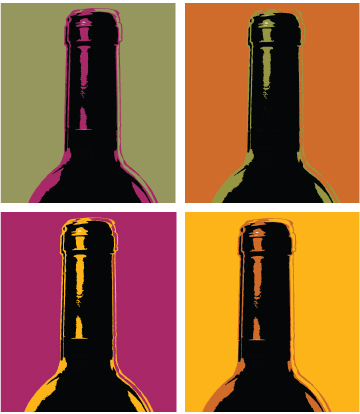 The world of wine is an ever changing animal. Every year renowned vineyards produce fantastic spirits using only the finest grapes to satisfy our ever changing pallets. Whether it's a fifty dollar bottle at the trendiest French bistro or relaxing at home with a reasonably priced blend, New Yorkers simply love their vino. This weekend, wine enthusiasts and occasional sippers can rejoice in unison with the Fifth Annual New York Wine Expo returning to New York's Jacob Javits Center from March 2nd-4th.
All weekend long guests with be able to walk the huge Javits Center complex sampling over six hundred wines from around the world. This is the perfect opportunity for both wine aficionados and newbies to sip fine wines and chat with their producers to find out exactly how they are made and get answers to any and all of their queries no matter how basic they might be. If that isn't enough, patrons will be able to take part in some informative seminars occurring throughout all weekend long. Hey, we can only do so much to convince you to make the trek to the west side, so we've taken some time to sit down with New York Wine Expo show director, Ed Hurley to find out exactly what guests should expect throughout the weekend including. You can read our transcript below as we delve into the 2012 Expo and discuss the seminar programs, food samplings, and what surprises we can expect during the grand expo! Tickets are still on sale and we whole-heartily recommend you attend what will be the wine event of the season. And if you're planning to stop by, throw us a Tweet @LocalBozo as we'll be covering all of the grape stomping festivities!
LocalBozo.com: Can you describe for us how the NY Wine Expo has evolved since its inception- from conceptually to what we will have in store for the 2012 event?
Ed Hurley: The Expo was originally created as a special event to accompany the co-located International Restaurant and Foodservice Show at the Javits. It has evolved into a stand-alone international show showcasing wines from over a dozen countries.
LocalBozo.com:  How were the vendors and participating wineries and vineyards chosen and how is placement within the space determined?
EH: Vendors and participating wineries are invited to exhibit. Wherever possible, wineries are placed by country of origin into pavilions to make it easier for the attendee to find the wines that they are looking for at the show.
LocalBozo.com: Will non-wine lovers find things to do at the Expo?
EH: The focus is on wine, but in addition to sampling, attendees can check out the latest in wine accessories and specialty foods including serving accessories, refrigeration and wine racks, stemware, decanters and much more.
LocalBozo.com: What's been the biggest challenge for you and your staff in putting on a massive event like this? Is it difficult finding a middle ground between the high end wine enthusiast with the atmosphere of a crowded expo?
EH: The Expo has a more intimate feel as opposed to a crowded expo. In fact, we have moved the event into the Galleria space at the Javits with beautiful outdoor views, high ceilings, etc. This space is generally used for receptions and special events.
LocalBozo.com: Will there be any food purveyors on hand at the expo?
EH: Yes, there will be several including; Alaska Seafood Marketing Institute, Cavedoni Balsamic Vinegar, Poppleton Pastries, Hudson Valley Foie Gras and of course, a variety of chocolate brands, which are ideal for pairing with wine.
LocalBozo.com: Will attendees have the opportunity to purchase bottles that they taste?
EH: No, wine cannot be purchased at the Wine Expo. However, the exhibitors can provide information regarding local retailers and or web sites where they can go to for that information.
LocalBozo.com: Which events/seminars are you most looking forward to at the expo?
EH: The seminars were designed for various levels of wine lovers, from the novice to the more experienced connoisseur. There is a Wine 101 class, seminars on wines from popular regions like Italy and France, to seminars for those who want to learn about less known wine regions like Greece and Portugal.
LocalBozo.com:  How many people do you anticipate attending this year's expo and how will the event be laid out to avoid any lengthy lines for attendees?
EH: Each year, the Expo attracts a growing number of wine lovers. We are expecting nearly 2,000 attendees this year. We carefully balance the number of tickets sold with the number of exhibitors to provide an enjoyable and relaxing experience for everyone.
LocalBozo.com: Any other surprises in store for attendees at this year's expo?
EH: Don't be surprised if you see a famous television personality who is not only involved in wine making but is also a famous housewife from New Jersey and a current contestant on Celebrity Apprentice.
LocalBozo.com: Anything else for the readers of LocalBozo.com?
EH: The New York Wine Expo features wines from the greatest wine-producing regions of the world. But the Expo also includes the biggest trends of the year ahead from smaller local wineries, to organic wines to off beat varietals that you'll want to pour time and again.
- Jay Rubin
Related Articles
Share
About Author
(0) Readers Comments