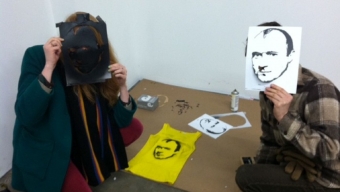 Blog: Phil Collins Day 2012
To have a holiday and/or day of celebration named after someone, there is certain necessary criteria for consideration. Are you a former United States President who succeeded in bringing this nation together? Answer: "No." Okay, well are you a community leader who helped to change the face of civil rights and move a people forward? Answer: "No." Oh, did you write, "Sussudio?" Answer: "Yes." Sounds good to me, Phil Collins. It is true, February 15th, the day directly following the other day of love is officially, 'Phil Collins Day.' And its celebration headquarters is located in the artist and cultural mecca that is Greenpoint, Brooklyn.
It may have been the first time that LocalBozo attended Phil Collins Day but this celebration for the much loved singer/songwriter is far from new. In 2007 a 'Face Value' dance party was held in Mr. Collins honor but since then revelers have partied and reflected about the man in various ways. 2011 proved to be the grandest Phil Collins Day yet. A Phil Collins Day Parade through Greenpoint was held, fully equipped with a marching band playing "In The Air Tonight" with full gusto, cars and floats carrying paper mache Phil Collins busts, and a massive crowd sing-along in Collins masks.
Even though there is plenty of tongue and cheek humor built into this celebration, the minds behind it are extremely creative and artistic. And the creativity was on display during yesterday's 2012 'Phil Collins Day' celebration. A fantastic space on Freeman Street in Greenpoint played host to this year's fun. 'Phil Collins Day' creator Heather and her team built a 'Phil Collins Confessional Booth,' a space for attendees to confess their loves, heartbreaks, obsessions, and degradations. The booth was sacred ground for one to step inside and privately record whatever they wanted. An intricate computer program was created in order to make this seamless and most important, fun. The founders confirmed that each year they will have an original idea which will never be repeated the next year.
In the end, whether you actually love Phil Collins is irrelevant. Sometimes it takes a pop icon to bring out the creativity and fun in all of us. These days we are all living in a "Land Of Confusion" so why not let Phil make it all better. Just be sure to give him,"One More Night" because, "I Can't Dance." I am now officially out of puns.
- Jay Rubin
Related Articles
Share
About Author
(0) Readers Comments