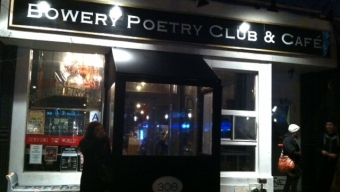 Blog: The Taylor Mead Show
The poetry and performance arts world in New York may not have the same vigor it had twenty years ago, but it definitely still exists. Be it at a Do It Yourself warehouse commune in Bushwick or under the arches in Washington Square Park, if you seek it out you can certainly find it. Yet, if you are looking for a one stop shop for all things in the alternative arts world one needs to look no further than The Bowery Poetry Club and its Monday residency with 60s counter-culture icon Taylor Mead.
Every Monday at 6:30pm, the writer, actor, and performer who recently turned eighty-seven, leads "The Taylor Mead Show." Upon first appearance, Mead is an elderly gentleman who looks as if he'll simply read from a selection of works and leave the stage quickly. But first appearances can be very deceiving. Instead, Mead spends a considerable amount of time on stage. And much of it is hilarious.
The avaunt-garde Taylor was a member of Andy Warhol's exclusive "Factory" group, often perceived as one of the true artists to come out of it. Since then he has played a prominent role in the gay liberation movement, and has become a famous resident of the East Village. He is crass, opinionated, and is often, down-right laugh out loud funny. And all three of those traits play right into why this a very New York City centric show, you should not avoid. Throughout the thirty minute plus performance, Mead takes the audience on a tour of his psyche with a mixture of funny and sexually charged poetry, showing off his artwork, and delivering a no holds barred commentary on our city and on modern life in a way that one would never expect from a man of his age. He surprised me personally by taking several shots at Warhol calling him a 'phony' and a 'fair weathered' person, which was a great pop culture revisionist history lesson to say the least.
One of the stand out pieces of Mead's set involved his reading of a poem that was blue in nature, paired with a typical tape deck placed next to him. The set up would be simple- he would read the poem and play some Charles Mingus jazz tune in the background. But when Taylor thought the song didn't fit, the crowd saw how quickly Mead could drop an idea and improvise to create a much deeper result. While reading this sexually filled work, he scrolled through radio stations often blasting the harsh sound of static into the audience and I respected the way he used something as incendiary as loud off-putting noise to feed into this work.
The Bowery Poetry Club is truly a perfect venue for those seeking a night spot to be both entertained and challenged at the same time, about one's preconceived notions about poetry and performance art. The "Taylor Mead Show," which we witnessed this past Monday will be totally different next week. The amount of times we found ourselves laughing throughout the set rivaled some of the more memorable experiences at a well known improv club across town. Taylor Mead may be an older gentleman but he is literally filled with piss and vinegar.
- Jay Rubin
Related Articles
Share
About Author
(0) Readers Comments