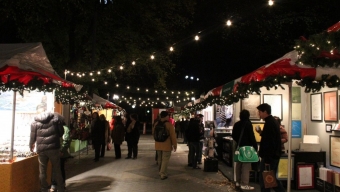 If points can be awarded for cool Christmas shop locations in New York City, then The Columbus Circle Holiday Market is leading the pack. This collection of seasonal holiday shops brilliantly lines the sidewalk of one of Central Park's most stunning entrances, while sitting at the mouth of the bustling Time Warner Center.
We chose to hit this European-styled open air market during the evening of its first day in operation, and we are glad that we did. A slight chill filled the air, giving it that early winter feel. As we strolled through, it was was hard to keep a grin off our faces. With its candy cane colored shop stalls and streams of green wreaths and lights, this commerce pop up is the definition of the holidays. 
The Columbus Circle Holiday Market shops are full supporters of small business. Patrons will find items here that you literally cannot find in a big box store. If you're shopping for an original Christmas decoration be sure to stop by "The Swell Company." This Maine based business has been in operation for over ten years, providing those with unique, homemade gifts. We suggest you pick up a few Farmhouse Stockings for your mantle or any place you hang things. These stockings are hand knit with wool yarn from the backs of Maine sheep. They will both tie the room together with holiday cheer and impress your friends and family.
When you're walking up and down these great shops, searching for that perfect gift you're bound to get hungry. Luckily you won't have to settle for a bag of sugary nuts to fill you up. The Columbus Circle market boasts a diverse selection of full meals and foods on the go. If you're in the mood for a quick yet satisfying mobile food fix, we'd suggest heading over to Sigmund's Pretzels. On a cold winter's day there's nothing like picking at a hot salted soft pretzel. They are huge and perfect for two to share.
But if you're in the mood for some hearty comfort food, why not head over for some Thai fare as the international staple featuring the popular dish "pad thai," will be available all season long. The market's dining area features long communal tables, which are perfect for groups and making new friends.
The sprawling market is filled with several food options that you can take home with you to either enjoy or gift. Say, do you like cured meats? Why not head over to Charlito's Cocina. Founder Charles Wekselbaum's has created a fine charcuterie selection which are made slow, and most importantly from scratch. If it is your first time sampling this delicacy we recommend you pick up a "Chorizo Seco." The cured delight is made with heritage breed, pasture raised pork, and seasoned with Mediterranean sea salt, mild paprika, and garlic. They make a perfect appetizer and pair excellently with beer. Or get your sweet tooth fix over at "No Chewing Allowed," the maker of traditional French truffles. When you pop one of these in your mouth, they will quickly melt yielding tons of flavor.
'Tis the season for great local shopping! We urge you to take advantage of this great market as it truly captures the holiday season in New York City, and helps boost the city's many small businesses. The market will be open everyday from 10am-8pm, until December 24. And by then, time's up anyways.
- Jay Rubin
Related Articles
Share
About Author
(0) Readers Comments