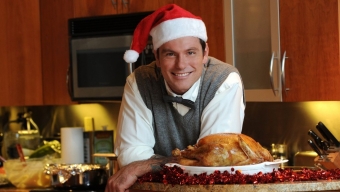 Chef Chuck Hughes has had a big year. He's opened a new restaurant, purchased a home with his girlfriend, and all the while managed to juggle a red hot television career. But now he's got a real challenge on his hands: hosting his first Christmas dinner at his home. And he's invited a camera crew to tag along for "Chuckmas," a holiday themed Cooking Channel food special perfect for the entire family.
Hughes, a native of Montreal, Quebec has set the French Canadian culinary world ablaze with his distinct style and lively personality. He is the chef and co-owner of the wildly popular Garde Manger and Le Bremner located in Old Montreal. But in recent years, Hughes has crossed the border to the delight of American food fanatics and in the process, not only proved victorious over super-chef Bobby Flay on "Iron Chef America," but also hosts his very own series on the Cooking Channel titled "Chucks Day Off."
"Chuckmas" will show off Hughes' skills right in his element as he brings his magnetic charm and classic approach to cooking to the happiest time of the year. Throughout the special, viewers will get to know the Chuck Hughes the man as he attempts to manage the challenges of family and kitchen. Throughout the special, Chuck embraces the classic food culture of Quebec with a real passion and will show viewers a variety of his favorite seasonal recipes.
But before the show even airs, we've been given a glimpse at what's to come. Below you'll find our hands down favorite Christmas recipe, which will be featured on the special. The 'Tourtiere,' which is French for, "meat pie," is a savory yet humble take on the traditional pot pie and will definitely appear on our holiday table. Grab a copy of our recipe and jump in the kitchen with Chuck Hughes' for "Chuckmas" premiering this Sunday, December 11th, at 8pm ET/5pm PT only on the Cooking Channel.
Don't start cooking that meat pie just yet! Stay tuned to LocalBozo.com all this week for the very best of New York City, including our exclusive video interview with Chuck Hughes. The celebrity chef and all around good guy took the time to speak with us about an array of topics close to his heart. The conversation ranged from his love of Manhattan around Christmas to the exciting food trends he wants you to know about! Eat well and Seasons Greetings!
Tourtiere (aka Meat Pie)
Recipe courtesy of Chuck Hughes
Total Time:
 7 hr 0 min
Ingredients
    4 cloves garlic, finely chopped
    4 onions, chopped
    3 tablespoons/45 ml canola oil
    3 pounds/1.5 kg ground pork
    3 pounds/1.5 kg ground veal
    Salt and freshly ground black pepper
    1 cup/250 ml veal stock
    1/2 teaspoon/2.5 ml ground cinnamon
    1/2 teaspoon/2.5 ml ground cloves
    1/2 teaspoon/2.5 ml ground nutmeg
    4 potatoes, grated
    6 batches Shortcrust Pastry, recipe follows, or store-bought
    2 eggs beaten with a little water, for egg wash
Directions
In a large saucepan, soften the garlic and onions in the oil. Add the pork and veal and continue cooking for about 15 minutes, stirring to crumble the meat. Sprinkle with salt and pepper. Add the veal stock, cinnamon, cloves, nutmeg and potatoes and cook, stirring frequently, until the potatoes begin to fall apart, about 45 minutes. Let cool. Adjust the seasoning. Cover and refrigerate for 4 hours or until completely chilled.
With the rack in the lowest position, preheat the oven to 375 degrees F (190 degrees C).
Line six 9-inch (23-cm) pie plates with the pastry. Cover with the cooled meat mixture. Cover with a second crust. Brush with egg wash. Make an incision in the center. Press the edge to seal with a fork or your fingers. Bake until the crust is golden brown, 50 minutes to 1 hour.
- Jay Rubin
Related Articles
Share
About Author
(0) Readers Comments