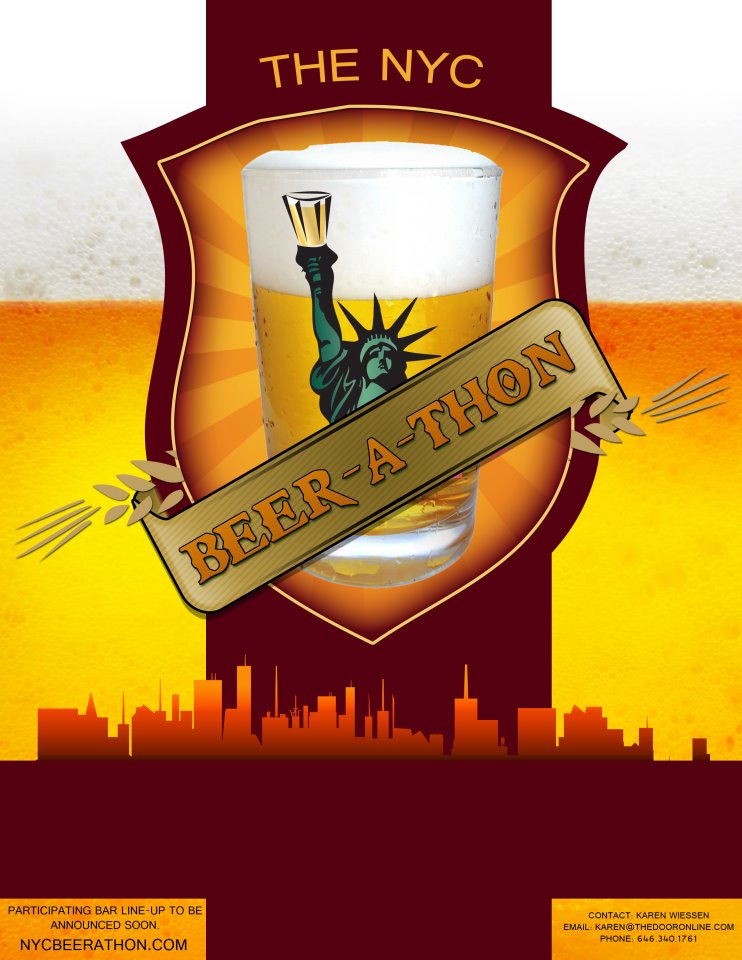 Calling all fans of suds! Your frothy mug awaits at the Fifth Annual New York City Beerathon on Saturday, November 19th. Patterned after the 26.2 mile NYC Marathon, which you may have heard went down last weekend, this year's beer event will take place on a structured course throughout the Village in downtown Manhattan and will surely prove to be one of the most exciting "Thons" yet. The trail, which will be kept cleverly secretive until event day was designed by a certified Beerathon course map veteran. This genius of all things ale has extensive experience planning prior Beerathons, so rest easy: your day will be spent at only the best houses of consumption!
LocalBozo.com was fortunate to sit down with one of the organizers of this year's Beerathon to understand the entire history behind this celebratory Saturday for beer lovers. We also got some inside info as to how the day will play out for ticket holders. The New York City Beerathon is a marathon of different sorts- and is a great way to sample 26 beers at 26 different bars, for perhaps the most intense structured bar crawl of the year.
 
LocalBozo.com: Tell us about the idea behind the NYC Beerathon- how did it all begin and how has it evolved to the 2011 version?
NYC Beerathon: If you are like us, you love to drink beer.  This love affair likely started during college, and if you were lucky enough to go to school in New York City, your introduction to beer came through traveling throughout NYC, finding new watering holes and meeting tons of new people, and trying beers you never even heard of. After college, however, comes real life, when we all go our separate ways and try to figure it all out. For us, some stayed in New York, others moved to an outer borough, still others went out West, but whenever we were in town together we made sure to meet up at a bar in a neighborhood we never ventured into before, trying to keep our beer palates fresh and our NYC neighborhood skills sharp.
Five years ago, one of our friends decided to make an event out of our reunions.  We always ended up in town around the holiday season, and leading up to that was always the NYC Marathon, so our friend was struck with an epiphany: the NYC Beerathon. 26 different bars, 26 different beers: One neighborhood.  We all showed up at the first bar and together embarked on one of the best days of our lives together.  We made a point to drink a different beer at each bar. From hefeweizens to stouts, we sampled them all.  We walked around all day and night, resting for pizza or burgers along the way, but always intent on going as far as we could towards what we thought was an attainable goal of drinking 26 beers in one day. Of course, no one actually drank 26 beers (although one friend still claims he pulled it off).  We soon realized this was just a great excuse to have fun, drink some beers, and explore the greatest city in the world.
The following year everyone brought in new friends, who were all confident in their ability to drink 26 beers, but soon were infected with the much more pleasurable desire to simply have a great time with friends.  Each year the crowd got bigger and each year the stories got more fun.  We realized after 5 years of keeping this tradition to ourselves, it was time to bring the NYC Beerathon to everyone lucky enough to be able to participate. On November 19, 2011, history will be made.  We will make friends, discover new drinking establishments, and most of all, have one of the best times of our lives.
LocalBozo.com:  With so many people involved, can we expect lengthy lines to get beers or is there a way these will be dealt with?
NYC Beerathon: Outside of the two check-in bars, there is no set course map and all of the bars are relatively close.  Participants will spread out throughout the area.  In addition, everyone is different and enjoys their beers at different speeds – that will stagger out the amount of people in each bar.  Venues are expecting large numbers of people and will have extra bartenders on hand to accommodate.  Most importantly, through experience, the process of getting your beers has been engineered to be as quick as imaginable.  Just hand over your pass, and get your beer.  No fumbling for money, no waiting for a credit card receipt to sign, no waiting for change; no hassle between you and your enjoyment of that venue's beer.
LocalBozo.com: Which bars can we expect to participate this year and where will the route travel to?
NYC Beerathon: The official participants and beers are being leaked daily over at facebook.com/Beerathon.  The route includes amazingly fun venues throughout the East and West Village.  
LocalBozo.com: Can non-beer lovers expect to enjoy themselves at the Beerathon?
NYC Beerathon: We have tons of "supporters" tagging along this year.  Some have allergies or hardcore diets, but still want to be part of the fun!  These non-beer lovers can enjoy other alcoholic and non-alcoholic beverages and food at the venues.  Yes, there will be tons of cheering!
LocalBozo.com: How many people do you expect for this year's event?
NYC Beerathon: Anywhere from 500-1000 fun-loving people at this year's Beerathon.   
LocalBozo.com: Are there any other surprises in store for guests at this year's event?
NYC Beerathon: If we revealed it, then it wouldn't be a surprise, would it?  We have a few things up our sleeves though.
LocalBozo.com:  What can guests expect to get out of a Beerathon?
NYC Beerathon: The entry fee will gain them access to 26 beers at 26 different bars set along the course.  They will discover at least five of their new favorite venues along the way, and enjoy the carefully picked (GOOD!) beer tastings.   It will also gain them access to a carefree, fun group of tons of like-minded individuals looking to have a good time and make some new friends.
LocalBozo.com: Anything else you'd like to leave the readers of LocalBozo.com with concerning this year's Beerathon?
NYC Beerathon: It all goes down on November 19th and you can purchase your tickets at NYCBeerathon.com. The NYC Beerathon will easily be one of the most fun things you do in your lifetime – and this year's going to be one of the best. You don't want to miss out!  Come join us!
LocalBozo.com: LocalBozo.com will be on hand, checking in on FourSquare & Tweeting along the way. Join us for a crazy afternoon as we embark on this year's Beerathon.
- Jay Rubin
Related Articles
Share
About Author
(1) Reader Comment