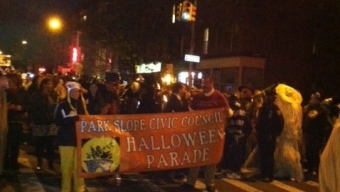 Blog: Park Slope Halloween Parade 2011
If you thought New York City had only one Halloween Parade, then the trick was on you my friend. Next year, just head over the East River to Park Slope, Brooklyn for one of the most creative, family friendly, and neighborhood centric Halloween events in NYC. The Civic Council's Halloween Parade has been a part of Park Slope since 1986. And if 2011′s parade is any indication, this parade of ghouls, witches, and skeletons will haunt the streets for years to come.
It should really be no surprise to anyone that Park Slope is known for attracting young parents, many of which still like to party like a kid every now and then. As we walked the parade route we spotted several young families in group costumes, where mother, father, and baby all had a creative look. One of our favorites were two parents dressed as chefs, with their baby dressed as a lobster sitting in a large pot. They must have been stopped by onlookers on every block to pose for pictures. Another cool family friendly costume had parents transforming their strollers into taco trucks and police cars.
One of the key aspects that sets the Park Slope parade apart from the one taking place in the West Village has to be the fantastic extra-curriculars- namely some puppeteer work and live musical acts. All parades need variety of some type to keep the crowd's attention. The fine local artisans and musicians have done just that. Throughout the route, onlookers were dazzled by the high flying ghosts, wizards, and witch puppets that took to the moonlit streets. At certain times the operators were actually inside the puppets, giving certain crowd members a good fun scare. And hey, what's a parade without music? The participants and crowd were able to shake their bones to the stylings of a Caribbean steel drum band alongside some local marching acts, playing pop hits.
This year's Halloween Parade would not have been possible had it not been for the efforts of groups like the Civic Council, the Park Slope Chamber of Commerce, the Park Slope Farmer's Market, Park Slope Parents, the Old Stone House, Park Slope Fifth Avenue Business Improvement District, and the Puppeteers' Cooperative. These individuals and small businesses volunteered their free time to make sure the rest of us had a magical, spooky, and most of all safe evening.
The most important aspects of this neighborhood parade is community unity, and putting a smile on the faces of children of all ages. So, If you didn't make it out this year, don't scream! Just be sure to check it out next October 31st for a scary-fun good time!
- Jay Rubin
Related Articles
Share
About Author
(0) Readers Comments