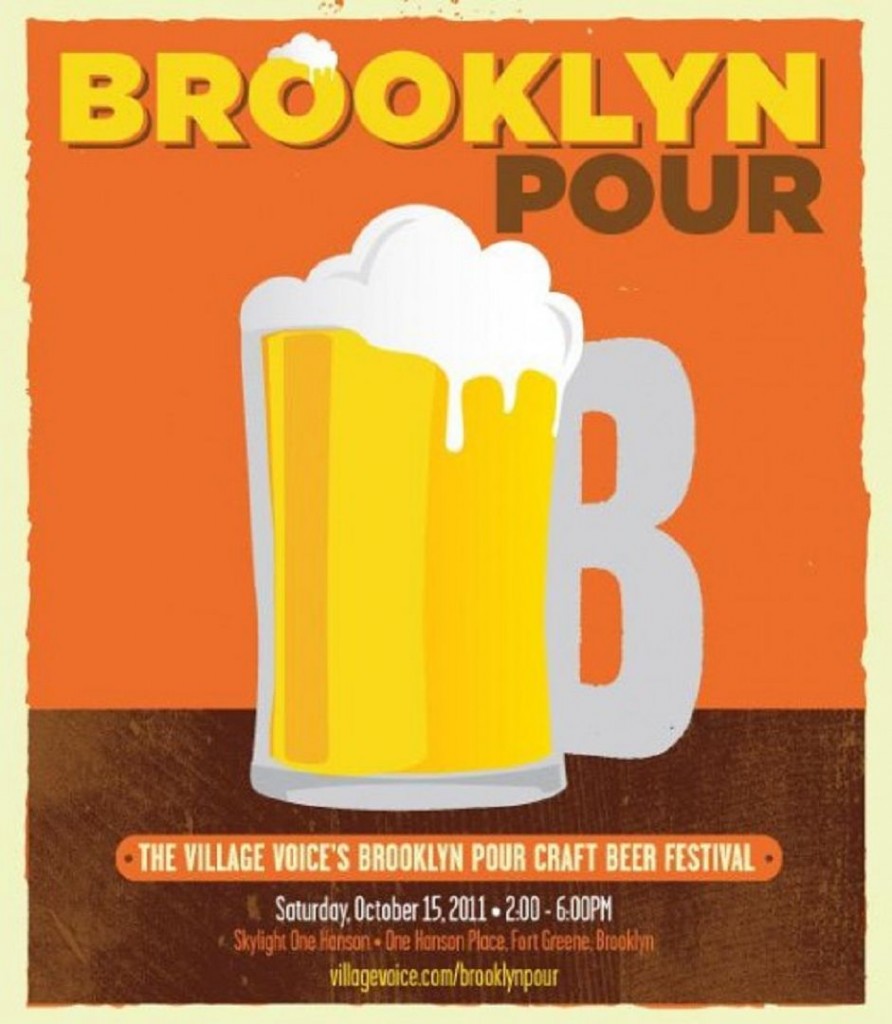 Skylight One Hanson, in the historic Williamsburg Bank Building has recently seen a resurgence of its iconic and ornate space. Be it a sprawling flea market, or a Eco-friendly festival, this tall pointed building with a clock on it, is the new "it" venue in downtown Brooklyn. And on Saturday, October 15th another New York City institution will try their hand at running a dynamic, first annual event. It's the Village Voice's Brooklyn Pour Craft Beer Festival!
This first of its kind event will feature over 100 local, area craft beers and food. The afternoon will enable guests to sip a variety of beers and chat with the people who make them. But let us not forget, the Brooklyn Pour is all about fun- responsible fun. LocalBozo.com was fortunate to sit down with Rosemary Raposo, of the Village Voice to discuss the finer points of this first annual event. Ms. Raposo provided us with a preview of the brews, the best way for patrons to enjoy it, and what we can expect from this weekend's event. If you love, or even like beer you need to buy an affordably priced ticket for what is sure to be one of the best days in town this fall. Â 
LocalBozo.com: With the ending of the Siren Music festival, can the public expect the Brooklyn Pour to become a annual event, along with the Voice's other staple events?
Rosemary Raposo: We always hope events like Brooklyn Pour become an annual tradition for the Voice community. Events like our Choice Eats Tasting Event is now in its 5th year and our off-Broadway Obie Awards is now in its 57th year so we love to make events a tradition here!
LocalBozo.com : Being the event takes place on October 15th, right in the middle of fall, can you please give our readers a preview of some seasonal fall beers we can expect to sample, and what breweries they will derive from?
RR: With over 100 beers available for sampling, we have a full portfolio of seasonal beers lined up for Brooklyn Pour! Some of the fall highlights participating in the event include some tasty fall favorites Ithaca Apricot Wheat from the Ithaca Beer Company, Brooklyn Brewery's Octoberfest, Dogfish Head's Punkin Ale,  Atlantic Brewing Company's Bar Harbor Blueberry Ale, Sixpoint Brewery's Autumnation Fall Harvest Ale and many many more. Visit the website for a full listing of participating breweries.
LocalBozo.com: What type of refrigeration/tap and waiter/ bartending serving system will you have in place to keep guests happy and well plied with beer so that no back log occurs?
RR: All of our brewmasters we have invited to participate in the event will make sure their stations are cool and ready for everyone to sample who attends and served cold, the way it is meant to be!
LocalBozo.com: What type of Green or Eco-friendly plan do you have in place?
RR: Each guest at the event will not only receive an official Brooklyn Pour sample glass to take home with them, but will be assisting us in keeping the event green by eliminating the trash from individual serving cups.
LocalBozo.com: How do you suggest a group of friends arriving together experience the event? Should they break apart to cover the most ground?
RR: Brooklyn Pour will be taking over Skylight One Hanson (formerly the old Williamsburg Savings Bank). From two floors to the bank vaults and the VIP mezzanine balcony overlooking the event hall, beer will be found for sampling in every corner of the room. Navigating with friends or going on your own, we will have a handy map available in advance for all guests to lock down their plan of sampling attack at Brooklyn Pour so be on the look out for it!
Related Articles
Share
About Author
(0) Readers Comments