Michael Andrew "Duff" McKagan, a founding member of Guns N' Roses and Velvet Revolver, hit the floor of New York City's Strand Book Store to share insights from his first book, "It's So Easy: and other lies," to a standing room only audience. He would be joined in conversation with celebrated Rolling Stone rock journalist, David Fricke.
Duff's approach to writing "It's So Easy," was never to smear or sensationalize anyone involved in his past or present. The people in his book did not ask to be in it, and therefore (sorry fans) it would not be a tell all trashing people. The book's true purpose is to recount a man's growth, overcoming crippling addiction and relationship woes. It is a warts and all journey of gigantic stardom and subsequent the path to sobriety. McKagan is one of the most engaging and respected members of the rock community. And with his addition of a literary work- an autobiography- he is now setting his sights on becoming an accomplished author.
It was a smart move to pair McKagan with senior writer, David Fricke for the evening's book event. Fricke has been covering hard rock for the legendary magazine since 1977, while also appearing in several rock documentaries providing his expertise and experience in dealing with similar bands who have struggled after finally making it big. The two men stood in front of a sold out crowd at the store and spoke openly and conversationally- an insightful, probing, and natural discussion about McKagan's rock past and present.
For McKagan, the eight hundred pound gorilla in the room continues to be the fate of his former band, Guns N' Roses- the band which, now manned by frontman Axl Rose without any of the founding members, interestingly just announced a slew of tour dates into the fall. Following the conversation with Fricke, the crowd was welcomed to pose questions to McKagan in a brief but interactive Q&A session. Audience topics hovered around praising McKagan for helping to create "a soundtrack of [our] youth," why McKagan decided not to pursue a lengthy solo career following the collapse of GNR, and a potential reunion of the band at next year's Rock and Roll Hall of Fame. Any longtime fan of Guns N' Roses has certainly had hopes of a full band reunion since the day they parted ways. It is only natural to want to rock out with the boys for one last time- but in reality a band is made up of real people who may or may not work well together after decades on the road.
After reading "It's So Easy," it's not hard to understand why. Beyond the battles of band rampant drug and alcohol abuse, come disputes over name ownership and publishing rights and even quarrels over the approach to live performances (A certain lead singer insisted on taking the stage sometimes 3 hours late). While McKagan tends to gloss over some of the juicier aspects of GNR's rise to fame, you truly get the understanding that his self-medication and frequent panic attacks prevented him from being confrontational with his bandmates. Had they all been able to sit down and talk things through, perhaps the biggest band of the early 90′s may still be touring today instead of becoming a cautionary tale of rock and roll excesses. But the main focus throughout McKagan's story is an unparalleled drive and determination to create and to influence. From his destitute days with his band, hitch-hiking to gigs to where he sits today, a grizzled 47 year old veteran of two wildly successful bands and his current incarnation- Duff McKagan's, Loaded, and with all the money in the world, McKagan refuses to stop playing because of a drive that forces him to be better. A better bass player. A better song writer. A better father. A better man. He certainly seems to have come a long way from the guy who drank a case of wine or a gallon of vodka on a daily basis.
Duff McKagan's "It's So Easy: and other lies," is now available in hardcover everywhere through Touchstone. Whenever a legendary rocker releases a book, another piece to the Rock N' Roll puzzle is revealed. Luckily McKagan's book is a raw, satisfying, and truthful glimpse at one of the most creative and influential minds in the annals of rock music history.
- Jay Rubin & Jane Van Arsdale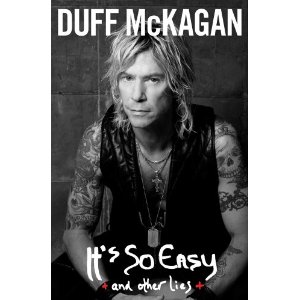 Related Articles
Share
About Author
(0) Readers Comments