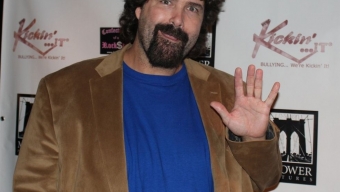 As our reliance on technology and social media has become a more integral part of our day-to-day existence, it's become more difficult to separate our work and school lives from our personal ones. For most of us old enough to look back on college, the problem is clearly minimal. But for the child in school getting bullied in his classroom or on his playground, no longer is he able to find solace even in his own home with the advent of 'Cyberbullying,' which has become an increasingly alarming and a widely prevalent problem. Thursday night, the Hard Rock Cafe in Times Square played host to a benefit in the form of a unified rallying cry, for a New Jersey group called "We're Kickin' It," bringing together celebrities, affected children, parents, and mentors in an effort to reduce negative behaviors and get rid of bullying for good.
It's estimated that every 7 minutes, a child is bullied, and that every day over 160,000 students miss school out of fear of being bullied. Moreover an estimated 52% of gay and lesbian teens are also bullied. The numbers are staggering indeed, but hope lies in a supportive group of individuals working toward the abolishment of bullying.
Thursday night's event provided a multitude of different activities and entertainment options for those who purchased the charitable tickets. The evening opened up at 6pm as families began arriving. The first two hours would be catered toward the children on hand- with a Guitar Hero game setup, and a preview of the new family movie focused on anti-bullying called "Snow Men," which opens tonight. Guest speakers included the lead from the film Josh Flitter, Wizards of Waverly Place actor Jake T. Austin, and New York State Senator Jeffrey Klein- each of whom spoke of their own troubled history with bullies and who stressed the importance of knowing how to deal with them. Other highlights included the appearnace of 'Ms. National Sweetheart,' and musical performances by brother-sister duo "Sibling Rivalry," who performed some killer covers of Jessie J and Hot Chelle Rae along with a few originals, "Kicking Daisies," a young Connecticut 4 piece named by Disney Radio as the 'Next Big Thing,' and Jimmy Gnecco, vocalist for rock band Ours, whose professionalism captivated the crowd with his smooth vocals and charismatic rock star persona.
The remaining special guests at the event would enter sporadically throughout the evening- actor Eric Martinez, former UFC champion Dan "The Beast" Severn, WWE Hall of Famer and father of "The Rock," Rocky "Soulman" Johnson, and WWE/TNA superstar Mick Foley- walking the red carpet, pausing for interviews from the limited press on hand. Sharing a table to the left of the stage, the men were gracious enough to pose for countless pictures and sign autographs, genuinely honored to be there.
While all eyes drifted to the celebrity guests, the evening was about the unified cause. Events like these help bring to light an issue that truly requires national attention. Kickin' It is a full year round campaign that aims to stop bullying before it starts- utilizing student mentors, assistance hotlines, social media monitoring, and parent and faculty support. Not to mention organizing a slew of fun events bringing together parents and children to raise awareness and funds to ensure the long term stability and success of the program. For more information on Bullying…We're Kickin' It, or to make a donation, check out werekickinit.org. The only way to prevent bullying is to take a traditional, old fashioned approach at reducing aggressive or negative behaviors before it ever gets to that point. And with our support, groups like We're Kickin' It will help make certain that our children's children will have one less thing to fear at school.
- Jane Van Arsdale
Related Articles
Share
About Author
(1) Reader Comment