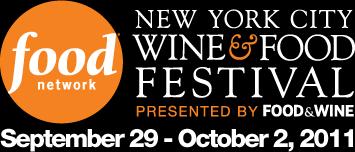 Attention loyal readers: LocalBozo.com wants to send you and a guest to the 2011 Food Network Wine & Food Festival. All you need to enter is a Twitter account, some creativity, and about three minutes of your time.
The Event: Pizza After Dark at Pulino's
The Place: Pulino's Bar Pizzeria – 282 Bowery and East Houston Street
The Date: Saturday, October 1 (11:00pm – 1:00am)
The Lowdown: Ready for a late night pizza party on the Bowery?  Pulino's Executive Chef Tony Liu and former Top Chef contestant, Spike Mendelsohn team up for an evening of pizza, antipasti, insalate, and al forno cuisine served straight out of Pulino's wood burning oven.  They'll have a DJ spinning directly in front of you in the kitchen, so the night is sure to be a wild one.  And the chance is here for you to win them – absolutely free.
The Rules: To enter to win LocalBozo.com's Two (2) Tickets to "Pizza After Dark at Pulino's" as part of the 2011 Food Network Wine & Food Festival, all you need to do is 1) follow @localbozo on Twitter and 2) Tweet or Re-Tweet a creative message to your Twitter followers which includes @localbozo and the hashtag #NYWFF.  That's all.  We'll be selecting our favorite Tweet or Re-Tweet, and will announce the winner on the front page of LocalBozo.com on Tuesday morning, September 27th at 9am sharp!  So good luck to each of you and spread the word about LocalBozo.com!
For more information on the 2011 Food Network Wine & Food Festival check out: NYWFF and click here for more information at "Pizza After Dark at Pulino's."
Related Articles
Share
About Author
(0) Readers Comments